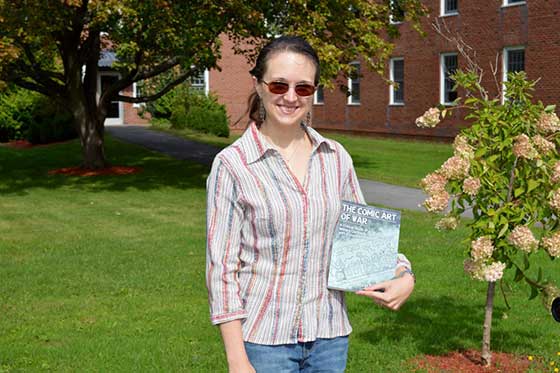 Dr. Christina M. Knopf, an associate professor in SUNY Potsdam's Department of English and Communication, recently authored a retrospective on military cartoons. Her work, "The Comic Art of War: A Critical Study of Military Cartoons, 1805-2014, with a Guide to Artists" was recently published by McFarland Books.
For military cartoonists, the absurdity of war inspires a laugh-or-cry response and provides an endless source of un-funny amusement. Cartoons by hundreds of artists-at-arms from more than a dozen countries and spanning two centuries were included in her book—the first to consider such a broad range of military comics.
"It all started, though I did not know it then, on a winter's day in late 2010. I was perusing the military history stacks at the local used bookstore when I discovered Barsis' 'They're All Yours, Uncle Sam!,' a 1943 story of babes-in-arms who became women-at-arms. I was at once enchanted and amused," Knopf said. "Before long, I happened upon other comics by and for military personnel."
War and military life are examined through the inside jokes of the men and women who served. "The Comic Art of War" analyzes themes of culture, hierarchy, enemies and allies, geography, sexuality, combat and civilian relations, and describes how comics function within a community. A number of artists included were known for their work with Disney, Marvel Comics, the New Yorker and Madison Avenue, but many lesser-known artists are also recognized in the book.
Knopf's research for this title included visits to the 10th Mountain Division and Fort Drum Museum and the Sampson Museum at the former Sampson Naval and Air Force Base, as well as to the Smithsonian National Museum of American History.
"The Comic Art of War" is available from McFarland Books now. For more information, visit http://www.mcfarlandbooks.com/book-2.php?id=978-0-7864-9835-2 [2].
About the author:
Christina M. Knopf holds a Ph.D. in cultural sociology and political communication from the University at Albany. She teaches courses in communication theory and research methods, rhetoric, public address, political communication and media. Her research mostly focuses on various expressions of war and military culture, with particular attention to graphic narratives, epistolary, film and political rhetoric. Knopf is also doing work on politics and gender in comic books. She has published chapters in three edited volumes and has forthcoming chapters in four more. Knopf is also published in Nano: New American Notes Online, Political and Military Sociology: An Annual Review and Air and Space Power Journal: Africa and Francophonie. She is the faculty adviser to the SUNY Potsdam Lambda Pi Eta communication honor society and to the Comic Book Club.
SUNY Potsdam's Department of English and Communication challenges its students to complete a core of courses that explore the varied ways people speak, write and read. The department offers Bachelor of Arts, Bachelor of Fine Arts and Master of Arts programs in literature, writing, professional writing, creative writing, speech communication and English and communication. For more information, visit www.potsdam.edu/academics/AAS/Engl [3].
###
Founded in 1816, and located on the outskirts of the beautiful Adirondack Park, The State University of New York at Potsdam is one of America's first 50 colleges. SUNY Potsdam currently enrolls approximately 4,200 undergraduate and graduate students. Home to the world-renowned Crane School of Music, SUNY Potsdam is known for its handcrafted education, challenging liberal arts and sciences core, excellence in teacher training and leadership in the performing and visual arts. Empowered by a culture of creativity, the campus community recently launched Take the Lead: The Campaign for Potsdam, which aims to raise $32 million by the College's bicentennial in 2016.