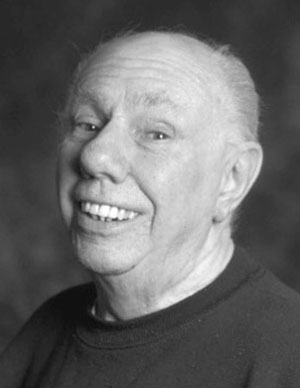 SUNY Press has published a volume honoring Maurice Kenny, the recently retired longtime writer-in-residence at SUNY Potsdam. Entitled "Maurice Kenny: Celebrations of a Mohawk Writer," the book is edited by Penelope Myrtle Kelsey of the University of Colorado.
Included in the volume is an article by SUNY Potsdam visiting lecturer Karen Gibson, "Teaching Maurice Kenny's Fiction," as well as a verse play based on the Molly Brant poems, entitled "Maurice Kenny's Tekonwatonti/Molly Brant: A Play in Voices," adapted by Alan Steinberg of the Department of English and Communication.
"Maurice Kenny: Celebrations of a Mohawk Writer" explores the broad range of works by Mohawk writer Maurice Kenny (1929–), a pivotal figure in American Indian literature from the 1950s to the present. Born in Cape Vincent, N.Y., and the author of dozens of books of poetry, fiction and essays, Kenny portrays the unique experience of Native New York and tells its history with poetic figures who live and breathe in the present. Perhaps his best-known work is "Tekonwatonti/Molly Brant: Poems of War."
"This is a much-needed celebration of a seminal but understudied figure in modern American Indian/Iroquois literature," said Donald A. Grinde Jr., editor of "Native Americans."
Kenny's works have received various accolades and awards. He was recognized by the Wordcraft Circle of Native Writers and Storytellers with the Elder Achievement Award, and two of his collections of poems, "Blackrobe" and "Between Two Rivers," were nominated for the Pulitzer Prize. Kenny has also been honored with the American Book Award for "The Mama Poems." His works have been recognized by National Public Radio, and have drawn the attention of famous figures such as Allen Ginsberg, Jerome Rothenberg and Carolyn Forché.
"Maurice Kenny: Celebrations of a Mohawk Writer" serves as a comprehensive introduction to Kenny's body of work for readers who may be unfamiliar with his writing. Written by prominent scholars in American Indian literature, the book is divided into two parts: the first is devoted to musings on Kenny's influence, and the second to traditional critical essays using historical, nationalist, Two Spirit, creative, memoir and tribal-theoretical approaches.
"The essays in this collection bear witness to [Kenny's] ability to inspire others, his generosity of spirit and the importance of his body of work as a significant part of the American literary canon," Joseph Bruchac wrote in the foreword.
Author Penelope Myrtle Kelsey, of Seneca descent, is associate professor of English and ethnic studies at the University of Colorado at Boulder. She is the author of "Tribal Theory in Native American Literature: Dakota and Haudenosaunee Writing and Indigenous Worldviews."
The book is 188 pages and available in hardcover, paperback and electronic edition. To find out more or to purchase the volume, visit http://www.sunypress.edu/p-5252-maurice-kenny.aspx [2].
SUNY Potsdam's Department of English & Communication challenges students to complete a core of courses that explore the varied ways people write, speak and read. To find out more about its rigorous curriculum, visit www.potsdam.edu/academics/aas/engl [3].
Founded in 1816, and located on the outskirts of the beautiful Adirondack Park, The State University of New York at Potsdam is one of America's first 50 colleges. SUNY Potsdam currently enrolls approximately 4,350 undergraduate and graduate students. Home to the world-renowned Crane School of Music, SUNY Potsdam is known for its handcrafted education, challenging liberal arts and sciences core, excellence in teacher training and leadership in the performing and visual arts.