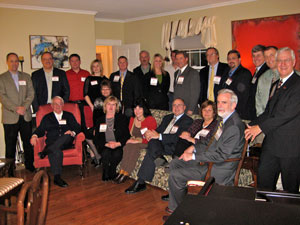 This holiday season, SUNY Potsdam is thankful for the generous support the College receives each year from North Country businesses.
SUNY Potsdam President Dr. John F. Schwaller and his wife Anne recently hosted an event on Nov. 18 at their home to show their appreciation for 26 local business donors as well as their College faculty and staff liaisons. Dr. Schwaller welcomed the guests and thanked them for all that they do to support SUNY Potsdam.
"Some of you have supported scholarships, many for local students. Others have supported arts and literacy outreach programs, providing invaluable experience for our students and the community. Still others are loyal athletic donors. You are all making Potsdam better, and making the North Country better," he said. "Now, more than ever, we are thankful for your leadership and commitment to the region and our students."
Special guests St. Lawrence County Administrator Karen St. Hilaire and St. Lawrence County Chamber of Commerce Executive Director Pat McKeown spoke to the group about their hopes and concerns for the business climate in the region—and about how they could work together to make the North Country strong. Dr. Schwaller said that higher education can play an important role by partnering with local business and industry to help revitalize the area's economy.
"Together, we can change the future. Together, we can make Potsdam and the surrounding communities better. We can make a difference," the President said.
SUNY Potsdam would like to thank the following business partners who attended the event:
• Canton-Potsdam Hospital - David Acker
• Community Bank, N.A. - Victoria Strader, Duane Pelkey
• Frenchie's Chevrolet - Frenchie Coupal, Jamie Davis
• Harris Medical - Mary Sue Foster
• IKON - John Jones
• LaValley Real Estate - Jim LaValley, Bob McLaughlin
• McDuff's Tavern/Julian's Restaurant - Jody and Heather Wenzel
• Slic, Nicholville Telephone Co. - Tom McCarty, Phil Wagschal
• North Country Savings Bank - Dave Swanson
• Larry Reece, CPA - Larry Reece
• PACES - Dan Hayes
• Rose & Kiernan - Kay Frederick
• SeaComm Federal Credit Union - Miki Crary
• Usherwood Office Technology - Lou Usherwood
• Walmart - Pat Devine, Bob LaBaff
• XpedX Paper & Packaging - Jessica Wines
For more information about how to help support SUNY Potsdam students, visit http://www.potsdam.edu/alumni/giving/index.cfm [2].
Founded in 1816, and located on the outskirts of the beautiful Adirondack Park, the State University of New York at Potsdam is one of America's first 50 colleges. SUNY Potsdam currently enrolls approximately 4,350 undergraduate and graduate students. Home to the world-renowned Crane School of Music, SUNY Potsdam is known for its handcrafted education, challenging liberal arts and sciences core, excellence in teacher training and leadership in the performing and visual arts.