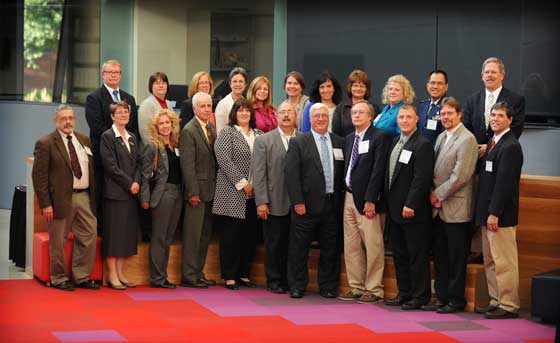 This holiday season, SUNY Potsdam is thankful for the generous support the College receives each year from North Country businesses.
SUNY Potsdam President Dr. Kristin G. Esterberg met with donors and supporters from local businesses and organizations in a special reception this fall. She welcomed numerous community leaders to campus, to recognize them for their ongoing partnerships with the College.
"We are so thankful for our loyal business donors and partners, who play a critical role in supporting scholarships, arts and literacy outreach, athletic programs, leadership activities and economic development initiatives at the College," Dr. Esterberg said. "Many have been partners with SUNY Potsdam for many years, and all are making both Potsdam and the North Country a better place."
Business partners were invited to tour the College's new Performing Arts Center, meet the President and speak with SUNY Potsdam scholarship recipients. Leadership Donors to Take the Lead: The Campaign for Potsdam were honored as well.
SUNY Potsdam would like to thank the following partners who attended the event:
·U.S. Air Force ROTC: Angelo Sta Agueda
·Alcoa: Laurie Marr
·Bowers & Company CPAs: Bill Doolittle
·Community Bank: Vicky Strader and Lori Loffler
·Enbridge St. Lawrence Gas: Kim Baxter and Phil St. Amand
·Foit-Albert Associates: Jack Robson
·Frederic Remington Art Museum: Laura Foster
·KeyBank: Amanda Crump
·National Grid: Rich Burns
·New York Power Authority: Karen White
·Potsdam Auxiliary and College Educational Services (PACES): Dan Hayes
·Potsdam Chamber of Commerce: Marylee Ballou '94
·Ricoh USA: John Jones
·Seeking Opportunities After Retirement (SOAR): Mark and Cynthia Coleman
·St. Lawrence County Industrial Development Agency: Tom Plastino
·Village of Potsdam Economic Development Office: Fred Hanss '83
·WPBS Digital TV: Lynn Brown
In 2013-14, businesses and organizations gave nearly $300,000 to the College.
In addition, this year, SUNY Potsdam established an Entrepreneurship/Start-Up NY Committee, which includes community partners, accomplished alumni, faculty and staff.
This group works to attract businesses to the North Country, through the new Start-Up NY economic development initiative, as well as fostering an entrepreneurial spirit on campus through special programs. On March 19, SUNY Potsdam will hold a special daylong event, focusing on economic development, entrepreneurism and career paths for students.
For more information about Start-Up NY at SUNY Potsdam, visit www.potsdam.edu/about/startupny [2].
To find out more about how you can give back to SUNY Potsdam, visit www.potsdam.edu/giving [3].
Founded in 1816, and located on the outskirts of the beautiful Adirondack Park, The State University of New York at Potsdam is one of America's first 50 colleges. SUNY Potsdam currently enrolls approximately 4,300 undergraduate and graduate students. Home to the world-renowned Crane School of Music, SUNY Potsdam is known for its handcrafted education, challenging liberal arts and sciences core, excellence in teacher training and leadership in the performing and visual arts. Empowered by a culture of creativity, the campus community recently launched Take the Lead: The Campaign for Potsdam, which aims to raise $27 million by the College's bicentennial in 2016.