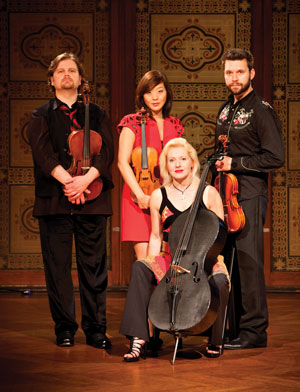 America's leading contemporary string quartet is coming to Potsdam. Community Performance Series is proud to present the renowned group ETHEL in an upcoming 2011-12 Guests Artist Series concert in Potsdam.
ETHEL will perform at 7:30 p.m. on Thursday, Feb. 2 in the Helen M. Hosmer Concert Hall at SUNY Potsdam's Crane School of Music. Dr. Shelly Tramposh, an assistant professor of viola, will give a free pre-concert lecture at 6:30 p.m.
Acclaimed as the country's premier postclassical string quartet, ETHEL invigorates contemporary concert music with refreshing exuberance, fierce intensity, imaginative programming and exceptional artistry. Formed in 1998, New York's ebullient ETHEL is comprised of Juilliard-trained performers Jennifer Choi (violin), Cornelius Dufallo (violin), Ralph Farris (viola) and Dorothy Lawson (cello).
ETHEL will perform its "Present Beauty" program in Potsdam, which features composer Philip Glass' suite from "The Hours."
"ETHEL is one of the most exciting and accomplished string quartets active in the new music scene," said Dr. Paul Siskind, a professor of music theory composition at The Crane School of Music. "They perform an interesting and diverse repertoire, representing a variety of the most current compositional styles. Many of these pieces draw upon influences from pop and jazz music, as well as from folk music from around the world, which makes them attractive to audiences who might otherwise not consider attending a traditional concert of 'classical' music."
ETHEL tours the world, appearing on stages as varied as Venice Biennale, the Sydney Opera House, Ravinia, TED, Lincoln Center, Holland's TROMP Festival, the Kennedy Center, FIAC in Guanajuato, Mexico, and the Brooklyn Academy of Music. Highlights of recent seasons include the world premieres of Phil Kline's "SPACE" at the gala reopening of Alice Tully Hall; ETHEL's "TruckStop®: The Beginning" at BAM's Next Wave Festival; "RADIO" by Osvaldo Golijov at the debut of WNYC Radio's Jerome L. Greene Space, and "ETHEL Fair: The Songwriters" at opening night for Lincoln Center's Out of Doors Festival.
Boldly exploring new synergies between tradition and technology, ETHEL initiates innovative collaborations with an extraordinary community of American and international artists such as Joe Jackson, Kurt Elling, Bang on a Can, Todd Rundgren, David Byrne, Ursula Oppens, Loudon Wainwright III, STEW, Ensemble Modern, Jill Sobule, Joshua Fried, Andrew Bird, Iva Bittová, Colin Currie, Thomas Dolby, Steve Coleman, Stephen Gosling, Jake Shimabukuro and Polygraph Lounge.
ETHEL will conduct a two-day residency through CPS, providing several lectures, demonstrations and masterclasses to Crane School of Music students. The masterclasses will cover topics such as improvisation and creating interactive programming. For more information on residency activities, visit www.cpspotsdam.org [2].
Tickets for ETHEL start at $18 for adults, $15 for seniors, and $9 for students. Tickets can be purchased online at www.cpspotsdam.org [2], by phone at (315) 267-2277, or in person, by visiting the CPS Box Office, located in the lobby of the Sara M. Snell Music Theater on the SUNY Potsdam campus, or at Northern Music & Video in downtown Potsdam.
The ETHEL performance has been sponsored by the Brambles Inn, with series underwriting by SUNY Potsdam's Crane School of Music. Media sponsors include WWNY Channel 7 News/Fox 28 and the Daily Courier-Observer.
Established in 1989, Community Performance Series at SUNY Potsdam is a college-community partnership presenting world-class performing artists and arts education opportunities in northern New York. A rich mixture of programs links community, classroom and audiences of all ages while preserving access to the performing arts for future generations.
For more information, please visit www.cpspotsdam.org [2].
Founded in 1816, The State University of New York at Potsdam is one of only three arts campuses in the entire SUNY system. SUNY Potsdam's arts curriculum offers the full palette: music, theatre, dance, fine arts and creative writing. No matter the discipline, people from all backgrounds can find their creative compass at Potsdam, with myriad arts immersion experiences available for both campus and community.