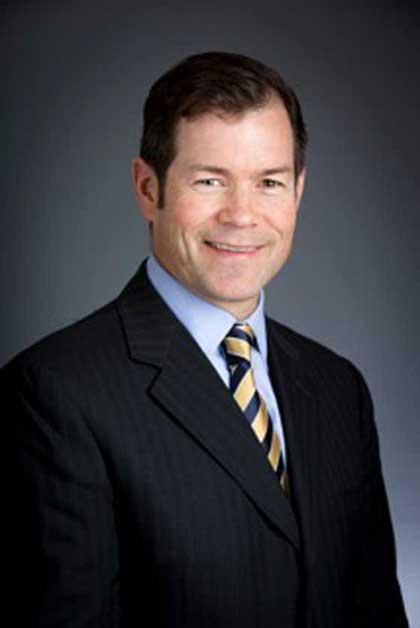 Former National Hockey League star and environmental advocate Michael Richter will speak at SUNY Potsdam on Tuesday, April 1. As part of the Sustainability Speakers Series, Richter will discuss the topic of "Improving Building Performance and the Health of the Planet."
"We have an opportunity here to use this as a wake-up call. We can do an awful lot—we're not expecting to get off fossil fuels by the weekend, but we have to understand that we need to move in the right direction," Richter said.
The talk will be offered at 7 p.m. on Tuesday, April 1 in SUNY Potsdam's Maxcy Hall Ice Arena. The arena ice will be covered, but some may wish to dress warmly. This event is free, and the public is invited to attend. Richter will be available after the talk for autographs.
About the guest speaker:
Mike Richter enjoyed a successful 15-year professional athletic career as goalie for the New York Rangers, where he was a three time NHL All-Star and Stanley Cup Champion. He also represented the United States in numerous international competitions including on three Olympic teams, earning a silver medal in 2002. Richter's team jersey was retired by the Rangers and now hangs in Madison Square Garden.
After retiring from the NHL, Richter enrolled in Yale University, and received his degree in ethics, politics and economics, with a concentration in environmental policy. In 2007, he became a founding partner in Environmental Capital Partners, a $100 million private equity fund focusing on resource efficiency. 
Richter serves on the board of directors for Riverkeeper and the board of trustees for the Adirondack Nature Conservancy, as well as the national advisory council for the Sierra Club. He recently began collaborating with the Natural Resources Defense Council, in an effort to bring the best ecological practices to the sports industry.
In addition, Richter launched Athletes for a Healthy Planet, an organization dedicated to fostering an understanding of the connections between environmental issues, human health, economy, social justice and well-being. In addition, he helped create the Aspen Institute's Sport and Society Program, and serves as the NHL Ambassador to Beyond Sport, a nongovernmental organization chaired by Tony Blair, which aims to use the power of athletics to promote social change. Richter is a member of the 2010 class of Aspen Institute Catto Environmental Fellows.
Richter's current venture, Healthy Planet Partners, finances and manages the deployment of renewable energy technologies and energy saving retrofits for commercial facilities of all sizes, in order to reduce businesses' operating costs and ecological footprints.
The Sustainability Speaker Series was created by Kelly Carter, who is the shared sustainability coordinator for both SUNY Potsdam and SUNY Canton. The series is designed to highlight the challenges and solutions associated with creating a more sustainable world. The collaborative program was designed to accelerate awareness of environmental, economic and social concerns, through presentations and interactive demonstrations, with the intention of stimulating cross-collegiate discussions, and inspiring smart and effective action among the campus communities.
SUNY Potsdam is committed to fostering a College-wide culture of sustainability, by promoting environmental stewardship and social responsibility, to inspire ecological solutions that forge a healthier campus, community and world. For more information, visit www.potsdam.edu/about/sustainability [2].
###
Founded in 1816, and located on the outskirts of the beautiful Adirondack Park, The State University of New York at Potsdam is one of America's first 50 colleges. SUNY Potsdam currently enrolls approximately 4,300 undergraduate and graduate students. Home to the world-renowned Crane School of Music, SUNY Potsdam is known for its handcrafted education, challenging liberal arts and sciences core, excellence in teacher training and leadership in the performing and visual arts. Empowered by a culture of creativity, the campus community recently launched Take the Lead: The Campaign for Potsdam, which aims to raise $27 million by the College's bicentennial in 2016.