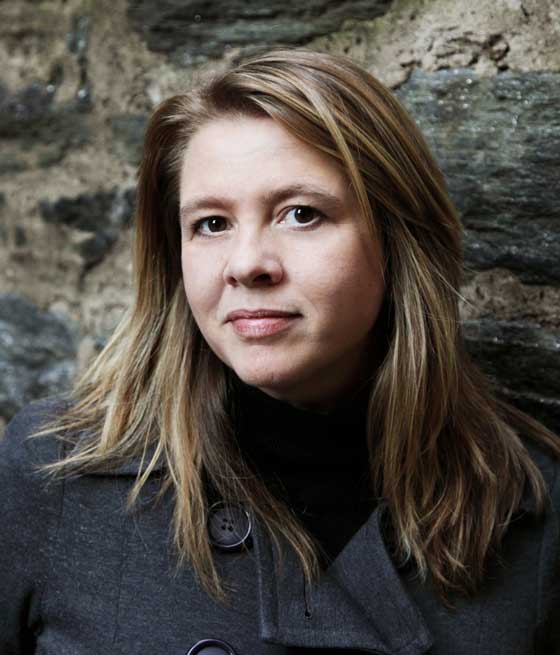 SUNY Potsdam will host a number of up-and-coming authors for the 2014 Lougheed Festival of the Arts. The Department of English and Communication will present an Emerging Writers Series, as well as presentations on "The Writer's Craft" from April 28 through May 2.
All talks are free and open to the public. Except for one talk on May 1, all events will be held in the Barrington Student Union Fireside Lounge. Each public reading will be followed by a book signing.
On Monday, April 28, Alden Jones will offer a presentation on "Creating the Self as a Character in Nonfiction" at 1 p.m. in the Fireside Lounge. At 4 p.m., the author will present a reading from her novel, "The Blind Masseuse: A Traveler's Memoir from Costa Rica to Cambodia," which has been named a Top 10 Travel Book by Publisher's Weekly and a Best Book of the Year by the Huffington Post. Jones's story collection, "Unaccompanied Minors," won the 2013 New American Fiction Prize. She teaches creative writing and cultural studies at Emerson College.
Kristian Einstman '14 and Tracy Harnish '14, two graduating seniors from the selective Bachelor of Fine Arts program in creative writing, will offer readings of their works in a showcase on Monday evening, at 6 p.m., also in the Fireside Lounge.
Visiting author Katherine Riegel will lead a writer's craft presentation entitled "Who Cares?: Figuring Out What's at Stake in your Poem," on Tuesday, April 29 at 1 p.m., followed by a reading from her poetry anthology, "What the Mouth Was Made For," at 4 p.m. Riegel is also the author of another poetry collection, "Castaway," and served as the founding editor and poetry editor for the journal, Sweet: A Literary Confection. She serves on the board of directors for YellowJacket Press and holds an MFA in poetry from the University of Iowa. Riegel is a continuing instructor at the University of South Florida.
W.P. Osborn will visit campus on Wednesday, April 30, first speaking about "Developing Your Writing Repertoire," at 1 p.m. He will offer a reading from "Seven Tales and Seven Stories," which won the first Unboxed Books Fiction Prize, at 4 p.m. Osborn's fiction has appeared in journals such as the Southern Humanities Review, Mississippi Review, Beloit Fiction Journal and Gettysburg Review. He is a professor of English at Grand Valley State University.
On Thursday, May 1, Resha Cardone will offer a presentation, "Translating Language/Translating People: Is it Possible?" at 9:30 a.m. in Morey Hall Room 225. This is the only creative writing event that will not be held in the Fireside Lounge. She will also speak about "Giving Global Meaning to Literary Feminism in Chile" at 2 p.m. in the Fireside Lounge. Cardone has translated two books of short stories by Chilean writer Pia Barros, and is currently working with writer Lina Meruane on translating a series of short films and multimedia projects. She earned her Ph.D. from the University of Kansas, and is an assistant professor of Spanish at Southern Connecticut State University.
Also on Thursday, Nathan Oates will offer a presentation on "Literary Genre Fiction" at 1 p.m. That afternoon, he will present a reading from his debut collection of short stories, "The Empty House," which was awarded the 2012 Spokane Prize, at 4 p.m. Oates's stories have appeared in the Antioch Review, the Missouri Review and elsewhere. He earned his master's at Johns Hopkins University, and his Ph.D. from the University of Missouri. Oates is an assistant professor at Seton Hall University.
Sylvia Watanabewill also present a reading following Oates on Thursday, May 1 at 4 p.m. A fiction writer and visual artist, Watanabe is the co-director of the creative writing program at Oberlin College. Along with W.P. Osborn, she is editing a collection of interviews and articles on the Fukushima power plant accident, called "The Fire that Won't Go Out: Fukushima and the Nuclear Knowledge Gap."
The Emerging Writers Series will conclude on Friday, May 2. Laurie Filipelli will offer a presentation on "Poetry and Imagination" at noon, followed by a reading from her debut collection of poetry, "Elseplace," at 5 p.m. Filipelli is a poet and educator living in Austin, Texas. She earned her Master of Arts degree from the University of Cincinnati and her MFA from Indiana University. Filipelli has taught high school English, as well as training other writers to teach in public schools. Her work has appeared in the Columbia Review and Madison Review, among others.
The SUNY Potsdam Department of English and Communication challenges students to complete a core of courses that explore the varied ways that people speak, write and read. The department offers both undergraduate and graduate degrees, as well as SUNY's only BFA program in creative writing. For more information, visit www.potsdam.edu/academics/AAS/Engl [2].
For more information about the 2014 Lougheed Festival of the Arts, visit www.potsdam.edu/artsfestival [3].
Founded in 1816, The State University of New York at Potsdam is one of only three arts campuses in the entire SUNY system. SUNY Potsdam's arts curriculum offers the full palette: music, theatre, dance, fine arts and creative writing. No matter the discipline, people from all backgrounds can find their creative compass at Potsdam, with myriad arts immersion experiences available for both campus and community.