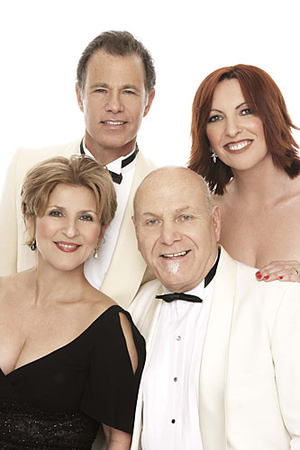 World-renowned jazz giants The Manhattan Transfer will perform as part of the 2009-2010 Community Performance Series Guest Artist Series, "A Celebration of the Voice," on Saturday, Sept. 26, at 7:30 p.m. in the Helen M. Hosmer Concert Hall.
The Crane School of Music's Executive Director for Music Business and long-time jazz vocalist Kickie Britt will give a pre-concert talk beginning at 6:30 p.m. in Hosmer Hall.
It's been nearly 35 years since Tim Hauser, a former Madison Avenue marketing executive, paid his bills by driving a New York City cab while aspiring to form a harmony vocal quartet sui generis that could authentically embrace varied musical styles, and still create something wholly unique in the field of American popular song.
In the fall of 1972, Hauser's taxi fare was an aspiring young singer named Laurel Massé, who was familiar with the sole album by Hauser's earlier Manhattan Transfer combo, and was looking to form a group.
A few weeks later, another of Hauser's fares invited him to a party, where he met Brooklyn native Janis Siegel; although already in a group, Siegel agreed to help out on some demos and before long she was the third member of The Manhattan Transfer.
As Hauser, Massé and Siegel began rehearsing, Massé's then-boyfriend, who was drumming in a Broadway pit band, introduced Hauser and Siegel to Alan Paul, who was co-starring in the original production of Grease, and the rest, as they say, is history.
The group went from strength to strength, when in 1981, they became the first group ever to win Grammy Awards in both pop and jazz categories in the same year – Best Pop Performance by a Duo or Group with Vocal for "Boy From New York City," and Best Jazz Performance, Duo or Group for "Until I Met You (Corner Pocket)," both from their fifth studio long player, "Mecca for Moderns."
In 1982 and 1983, the group won consecutive Grammy Awards in the Best Jazz Vocal Performance, Duo or Group category for, respectively, "Route 66" and "Why Not!"
The critical praise and commercial success of the group's first seven studio albums could hardly have prepared them for the monumental 12 Grammy nominations they received in 1985 for the album "Vocalese."
Those 12 nominations made "Vocalese" the single greatest Grammy nominated album in one year, and cemented the group's status as one of the most important and innovative vocal groups in the history of popular music.
If one is judged by the company they keep, the 1990s found the group recording with some impressive company indeed – Tony Bennett, Bette Midler, Smokey Robinson, Laura Nyro, Phil Collins, B.B. King, Chaka Khan, James Taylor and the original Jersey Boy, Frankie Valli.
Heading into the new millennium, with worldwide sales in the millions, Grammy Awards by the dozen and as veterans of sold-out world tours, the release of "The Definitive Pop Collection," a two-disc retrospective of the group's greatest hits, provides not only an opportunity to look back at one of the greatest bodies of work in American popular music, but also the chance to look ahead to the 35th Anniversary of a group that is restless, adventurous, limitless and, as the "Philadelphia Inquirer" so aptly put it, a group that "still can sound dangerous!"
Tickets are selling fast for this exciting event. For tickets and additional information about all CPS events, please visit www.cpspotsdam.org [2] or contact the box office at (315) 267-2277.