Below are some ready-to-use descriptions of the College, schools and departments.
The State University of New York:
The State University of New York is the largest comprehensive university system in the United States, educating more than 467,000 students in more than 7,500 degree and certificate programs on 64 campuses with more than 2.5 million alumni around the globe.To learn more about how SUNY creates opportunity, visit www.suny.edu.
SUNY Potsdam:
Founded in 1816, and located on the outskirts of the beautiful Adirondack Park, The State University of New York at Potsdam is one of America?s first 50 colleges. SUNY Potsdam currently enrolls approximately 4,350 undergraduate and graduate students. Home to the world-renowned Crane School of Music, SUNY Potsdam is known for its handcrafted education, challenging liberal arts and sciences core, excellence in teacher training and leadership in the performing and visual arts.
Arts Campus:
Founded in 1816, The State University of New York at Potsdam is one of only three arts campuses in the entire SUNY system. SUNY Potsdam?s arts curriculum offers the full palette: music, theatre, dance, fine arts and creative writing. No matter the discipline, people from all backgrounds can find their creative compass at Potsdam, with myriad arts immersion experiences available for both campus and community.
The Crane School of Music:
Founded in 1886, SUNY Potsdam?s Crane School of Music has a long legacy of excellence in music education and performance. Life at Crane includes an incredible array of more than 300 recitals, lectures and concerts presented by faculty, students and guests each year. The Crane School of Music is the State University of New York?s only All-Steinway institution.
The School of Education and Professional Studies:
The School of Education and Professional Studies at SUNY Potsdam has been preparing educators for nearly 200 years. Today, that legacy of educational excellence also stretches to programs in business administration, community health, wilderness education and information and communication technology, to help students prepare for professions in the global economy.
The School of Arts and Sciences:
The School of Arts and Sciences at SUNY Potsdam exposes students to a variety of fields within the fine arts, sciences, humanities and social sciences. The School?s strong foundation in the liberal arts prizes creativity and inquiry, offering a full palette of study in 19 departments offering majors, minors and interdisciplinary programs that encourage hands-on learning opportunities for every student.
Potsdam College Foundation:
Established in 1968, the Potsdam College Foundation is a non-profit corporation dedicated to stewarding the continued growth of private giving in support of SUNY Potsdam. Its mission is to ensure a quality future for the College and its people, by establishing endowments to support scholarships and programs to ensure campus needs are met.
Community Performance Series:
Established in 1989, the Community Performance Series at SUNY Potsdam is a college-community partnership presenting world-class performing artists and arts education opportunities in Northern New York. At CPS, a rich mixture of programs links community, classroom and audiences of all ages, while preserving access to the performing arts for future generations.
The Art Museum at SUNY Potsdam:
The mission of The Art Museum at The State University of New York at Potsdam is to make direct experience of the visual arts accessible to students, faculty, staff and alumni of the College, as well as to residents of Northern New York. The museum?s collection includes significant works from the 20th and 21st centuries as well as earlier pieces, which are displayed in learning environments across the entire campus.
General Fact Sheet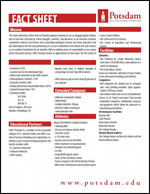 Download a copy of the General Fact Sheet (PDF)

Download Adobe Reader