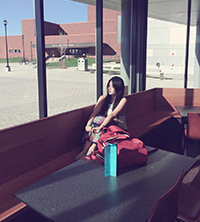 Liyuan Ji
I am Liyuan Ji and I am a current international student at SUNY Potsdam. My major is chemistry and this is my second academic year. I come from China and grew up in Chengdu, Sichuan. My hometown is in Southwest China and it is a magical city with a long history. Chengdu is famous for our pandas.
As an international student and non-native English speaker, I was nervous to get involved in American society at first. However, with the help of the International Education & Programs office, I got over my worries by the end of my first semester at SUNY Potsdam.
After I graduate from SUNY Potsdam, I would like to either attend medical or pharmacy school to be a doctor or pharmacist. With that goal in mind, I have received a lot of support from the SUNY system. In the summer after my freshman year, I spent ten weeks in the SUNY ESF Chemistry Department doing research in the Nomura lab. I was able to be there because of the SUNY STEM Passport Program. As an undergraduate student, the research experience ignited my passion for chemistry research and helped me get a taste of my future career.
I am also the President of Chinese Student Organization. Last year, another student told me she was interested in Chinese and asked me whether I could help her learn Chinese. My friends and I realized that we needed an organization to help students get to know Chinese culture and also provide a platform for Chinese students to communicate with each other. We established the Chinese Student Organization, which promotes the college to students from China, as well as introduce China to students who are interested in Chinese language and culture. We have quickly grown to about thirty members and we have already done a lot of activities.
I am glad to be a student at SUNY Potsdam. Hopefully, I can achieve my dreams with support from the school.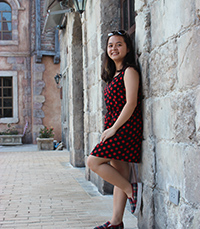 Anh Hoang Nguyen (Nguyn Hong Anh)
Anh Hoang Nguyen, called by her friends as Yumi, is an international student from Hanoi, Vietnam. She is a Business Administration and Mathematics major at SUNY Potsdam. She went to High School for Gifted Students, one of the best Vietnam's high schools, which belongs to the Hanoi National University of Science. Yumi was a Math-Informatics major. During the Fall 2012, she attended Hammond High School in New York as an exchange student. Yumi was the leader in starting the Potsdam International Organization (PIO) at SUNY Potsdam and she served for three semesters. During her tenure, she led many fundraising efforts such as raising money for Philippine hurricane relief and Relay for Life. Under her leadership, the PIO grew from two founding members to over 30 active members.
Yumi has been a Resident Assistant for the First Year Experience floor, a member of the Emerging Leaders Program, and a tutor for EOP Math Lab and for the Academic Support Office. Yumi has also been a volunteer intern for the College Writing Center where she assisted in analyzing student usage data.
In Vietnam, Yumi is the founder of Hanoi Book Exchange event-series, which occurs once a month. She is also on the Marketing Team of the "Ti quan tm" Project which provides workshops for students in High school about softskills and carreer planning.
Yumi loves traveling; she has been in Taipei, Seoul, the Bahamas, Philadelphia, Washington DC, and New York City. She enjoys trying food from different countries, and she likes to meet and to talk to people from different cultures. She also enjoys skiing, swimming, softball, and badminton. In her spare time, she enjoys watching anime and playing Dota 2. She also likes riding motorbikes.