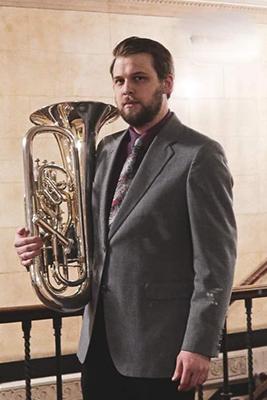 ---
An active pedagogue and performer, Chris Hotaling employs elements from his background in vocal performance in his approach to teaching and playing tuba, euphonium, and trombone. He believes strongly in the importance of lyrical, songlike playing as a means of promoting growth in his students, and he enjoys incorporating vocal repertoire in lessons and performances. He was invited to the Northeast Regional Tuba Euphonium Conference in 2020 to present a lecture entitled Accessing the Vocal Repertoire and its Pedagogical Benefits, and also gave a lecture titled Doubling: Resources & Techniques for Teaching and Learning at the 2020 Virtual Trombone Workshop.

Chris has performed with professional ensembles such as the Northern Symphonic Winds, the Orchestra of Northern New York, and the Erie Philharmonic Orchestra Brass Ensemble, as well as the renowned Eastman Wind Ensemble. He appears on albums by the Crane Wind Ensemble and the Eastman Wind Ensemble entitled Adirondack Songs and Images: Music of Jeff Tyzik, respectively. He recently finished his fifth year as either sole or co-director for Tuba Mirum, Eastman's tuba-euphonium ensemble, for which his responsibilities include programming, conducting, and rehearsing concerts both locally and at regional conferences. Since autumn of 2018, Chris has also served as adjunct faculty at St. John Fisher College in Pittsford, NY, where he teaches classes in music theory, history, and appreciation.

Chris holds B.M. degrees in Euphonium Performance and Music Education from The Crane School of Music at SUNY Potsdam, where he was named a Presser Scholar, and a M.M. and Performer's Certificate from the Eastman School of Music in Rochester, NY, where he is also currently completing his D.M.A. His teachers include Dr. Charles Guy for euphonium, Mark Kellogg for euphonium and trombone, and the late Dr. Lonel Woods for voice.

When not performing or teaching, Chris enjoys spending time with his wife, Jenna, and their three cats!