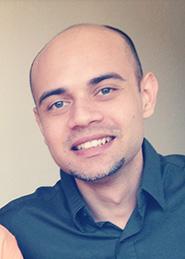 ---
Degrees
Ph.D. 2014, Syracuse University
M.A. 2008, Brandeis University
B.A. 2005, Hanover College
Courses Taught (2017-2018)
ANTH 111 - Introduction to Anthropology
ANTH 202 - Cultural Anthropology
ANTH 391 - Anthropological Theory
ANTH 107 - World Cultures

Expertise
Gender and sexuality, queer and transgender studies, identity and performance, activism and social movements, globalization and transnationalism, digital and biotechnologies, Islam, South Asia and its diaspora.

Profile
I am a cultural anthropologist, specializing in the anthropology of gender and sexuality and South Asia studies, with an emphasis on nonnormative genders and sexualities in Pakistan. After earning my undergraduate degree in cultural anthropology from Hanover College, I completed graduate training in cultural production from Brandeis University, followed by a doctorate in anthropology from Syracuse University. Before joining SUNY Potsdam, I served as a visiting assistant professor in LGBTQ and global studies at Sarah Lawrence College, as well as a lecturer in anthropology at Syracuse and Brandeis Universities, and most recently, I was a postdoctoral research scholar in anthropology at Brandeis. My dissertation research and current book project center on the culture, politics and activism of gender non-conforming people in Pakistan known as the khwaja sira (also hijra). In my writing, I explore how gender and sexual minorities navigate the challenges of everyday life and how they address obstacles in their fight for social justice. My research also examines how queer and trans* people's identity, performance and sense of self are shaped by new media, biotechnology, and transnational connections. In addition to my primary ethnographic research in the Sindh and Punjab provinces of Pakistan, I have conducted fieldwork in the state of West Bengal in India and in the South Asian diaspora in the United States.

Awards and Honors
American Institute of Pakistan Studies Write-Up Grant (2014)
Maxwell Dean's Fellowship, Syracuse University (2013)
Claudia De Lys Scholar in Cultural Anthropology, Syracuse University (2013)
American Institute of Pakistan Studies Short Term Research Fellowship (2012-2013)
Claudia De Lys Fieldwork Grant, Syracuse University (2011-2012)
Fulbright-Hays Doctoral Dissertation Research Abroad Fellowship (relinquished) (2010-2011)
Fulbright IIE Fellowship (declined in favor of Fulbright-Hays) (2010-2011)
Foreign Language and Area Studies Fellowship (declined) (summer 2010)
Foreign Language and Area Studies Fellowship (2009-2010)
Foreign Language and Area Studies Fellowship (declined) (summer 2009)
Foreign Language and Area Studies Fellowship (2008-2009)
Gordon Bowles Essay Prize (for outstanding graduate student paper), Syracuse University (2009)
Bharati Research Grant, South Asia Center, Syracuse University (2008-2009)
Central States Anthropological Society Undergraduate Student Paper Prize (2005)
Richter Grant, Hanover College (2004)

Scholarship
Khan, Faris. 2016. "Khwaja Sira Activism: The Politics of Gender Ambiguity in Pakistan." TSQ: Transgender Studies Quarterly 3(1-2): 158-164.

Khan, Faris. 2014. "Khwaja Sira: 'Transgender' Activism and Transnationality in Pakistan." In South Asia in the World: An Introduction, edited by Susan S. Wadley, 170-184. Armonk: M.E. Sharpe.

Khan, Faris. 2014. "Khwaja Sira: Culture, Identity Politics, and 'Transgender' Activism in Pakistan". Dissertations - ALL. 56.

Khan, Faris. 2011. "Powerful Cultural Productions: Identity Politics in Diasporic Same-Sex South Asian Weddings." Sexualities 14(4): 377-398.