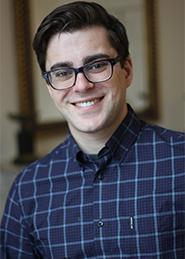 ---
Joe Sferra writes music that entertains with popular gestures while revealing a love for the harmonic and formal ideas of modernist concert music. Featured in performances in the USA, Canada, and Spain, his music has also been performed at Aspen, the University of Nebraska-Kearney New Music Festival, and at the Imani Winds Chamber Music Festival.

He studied composition at Saint Olaf College, The Ohio State University, and Stony Brook University. He has maintained an active career as a clarinetist and vocalist, performing in wind ensembles, chamber settings, and most recently with Traditional American Music group The Deep Roots Ensemble based on Long Island.

As a theorist, Joe is particularly interested in the music of living American composers. He presented his paper "Gabriel Kahane's Bradbury Pieces as Popular and Derridean Deconstructions" at several conferences. A firm believer in incorporating the liberal arts approach in all music classrooms, he has previously taught at Earlham and Vassar College.