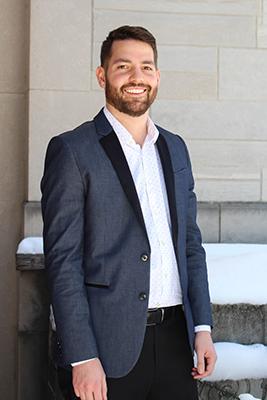 ---
In demand as both an instrumental and vocal collaborator, pianist Brock Tjosvold has performed throughout the United States with many up and coming musicians, as well as established ensembles. While teaching at the Crane School of Music, Brock is also in the last year of doctoral coursework in Piano Accompanying and Chamber Music at the Eastman School of Music, studying with Dr. Andrew Harley and previously with Dr. Jean Barr. In addition to his primary studies, he is also receiving a minor in sacred music and a minor in solo piano, studying with Dr. Douglas Humphrys.

In 2020, Brock received the Excellence in Accompanying Award from Eastman. He has performed extensively around the nation in prestigious venues and festivals, such as the Grand Teton Music Festival, where he is the collaborative pianist for Donald Runnicles Musical Arts Scholarship Competition. As an opera pianist, Brock was a 2020 Finger Lakes Opera Tomita Young Artist, performing for aria and scenes concerts, as well as the children's opera, Pinocchio. He has performed in many prestigious venues, such as Carnegie Hall with clarinetist Amy Humberd. Most recently, Brock won the Ann C. Fehn Memorial Award (1st Prize Pianist) at the 2021 Jessie Kneisel Lieder Competition, where he gave what is likely the world premiere of unpublished songs by Rebecca Clarke.

An active orchestral keyboardist, Brock has performed in professional orchestras such as the Albany Symphony Orchestra, New World Symphony, and Battle Creek Symphony Orchestra, in addition to the large ensembles at Eastman. He was also the principal keyboardist for the 2017 National Repertory Orchestra, where he was a soloist performing Shostakovich's Piano Concerto No. 2.

He has attended many of the top summer music festivals on full fellowship, including Music Academy of the West and the Aspen Music Festival and School, studying with Jonathan Feldman and Rita Sloan respectively. In 2013, he attended SongFest, where he studied with Martin Katz and Margo Garrett.

Brock began his primary musical training at the age of six with Patricia Randolph, later earning a bachelor's degree in piano performance from the University of Wyoming, magna cum laude, under the tutelage of Dr. Theresa Bogard. He previously completed his master's degree at the University of Michigan with Martin Katz and a Performer's Certificate at the Jacobs School of Music at Indiana University, studying with Anne Epperson and Kevin Murphy.