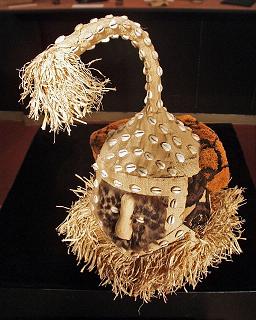 The SUNY Potsdam Charles T. Weaver Anthropology Museum regularly hosts exhibits created by student curators and serves as a teaching museum for students in the Museum Studies Minor. The Weaver museum was established October 1991 in honor of former SUNY Potsdam faculty member Charles T. Weaver, who spent many years among the Tetela people of the Democratic Republic of the Congo.
 
Exhibition
On The Move
An Exhibition on Human Migration in a Global and Local Context. Open during the semester or by appointment. Please call (315) 267-2053 or (315) 267-2593.
Support the Museum
If you would like to donate funding or an object of historical value, contact the museum director Dr. Morgan Perkins to learn how to donate to the Weaver Anthropology Museum.
Dr. Morgan B. Perkins
Assistant Professor of Anthropology and Art
Director, Weaver Museum of Anthropology
Department of Anthropology
State University of New York College at Potsdam
Potsdam, NY 13676
(315) 267 - 2593
perkinmb@potsdam.edu