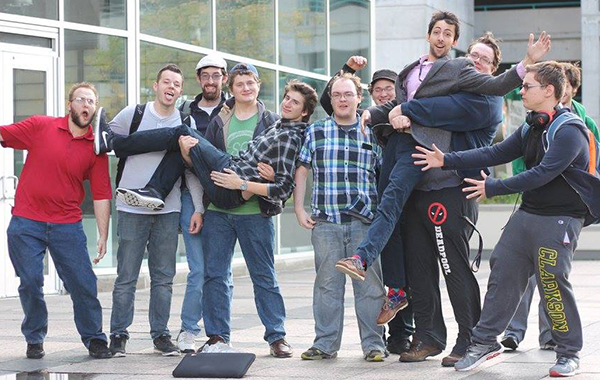 Our Community. The faculty and students of the computer science department at SUNY Potsdam form a unique community where the professors know students by name and the students are united by partner programming labs, team projects, extracurricular activities, and tutoring programs. The lab is always full of students willing to help others.
Association for Computing Machinery. The Association for Computing Machinery (ACM) is basically the Computer Science club, where it's mission is to unite people with a passion for technology. Our students enjoy a variety of extracurricular opportunities through our local ACM Student Chapter in the form of workshops, lightning talks, guest speakers, social gatherings, programming contests, hackathons, and more. Students are also exposed to networking opportunities that help students grow professionally and learn valuable skills. Students in the past have also attended conferences such as the Vermont Tech Jam, the Grace Hopper Celebration of Women in Computing, the CCSCN conference, NYCWiC, and the Google Developer Group conference. Our ACM Student Chapter is organized and run by students, and everyone is encouraged to participate and contribute to the group.
Board of Advisors. Each semester, the CS Board of Advisors meets with students to share their experiences and explore employment opportunities with students. The Board gives advice and support to our CS students, faculty, and curriculum. Board meetings happen twice a year, and provide an excellent context in which students can meet with successful graduates of our CS program and can identify internship and employment opportunities.
Degree Programs. We offer a degree program for every level of interest in the computer science field. Students may choose from a range of undergraduate degrees and minors.
Scholarships and Awards. In addition to the scholarships and awards offered by SUNY Potsdam's financial aid office, there are several funding opportunities offered by the computer science department for its students, including scholarships for interns and transfers.
Student Employment. The CS department at SUNY Potsdam hires several students each semester to serve as Laboratory Teaching Assistants and graders for CS classes. The College's Computing and Technology Services (CTS) unit frequently employs CS students to work at their Help Desk and in their Host and Networking Services department.
Transfer Students. Are you a transfer worried about fitting into a new program? SUNY Potsdam's CS department offers a transfer-friendly environment with a notable number of transfers, articulation agreements with many SUNY Community Colleges, and scholarship opportunities reserved for transfers.
Professional Opportunities. Students also benefit from professional opportunities such as the required capstone experience. In order to graduate the program, each student completes a credit internship or faculty-sponsored senior project. These experiences give students an insight into the field that makes them a more marketable job or grad school candidate.
Facilities. The CS department offers a range of facilities for student use including a Unix Lab featuring 14 high-end Linux workstations, a High Performance Computing Lab with a 12-unit computing cluster and seven workstations with NVIDIA multi-core GPU's, and a Computer Games Lab featuring several commercial games and consoles.
Employment Outlook. The U.S. Bureau of Labor Statistics reports that computer software engineers are projected to be one of the fastest growing occupations over the 2012-22 decade and that very good opportunities are expected for college graduates with at least a bachelor's degree in computer science and with practical work experience, such as student internships. SUNY Potsdam alumni can be found in organizations such as NASA,General Electric, IBM, Raytheon, Lockheed Martin, Hewlett-Packard, and Goldman-Sachs.