The Department of Theatre and Dance cultivates an innovative, experiential and multidisciplinary education within an inclusive community which prepares students for leadership and service in the arts.
Theatre & Dance Residency
Paul Taylor Dance Company
March 14 -31, 2021
Virtual classes for SUNY Potsdam students
Not open to the public

"Dance maker Paul Taylor first presented his choreography with five other dancers in Manhattan on May 30, 1954.  That modest performance marked the beginning of 64 years of unrivaled creativity, and in the decades that followed, Mr. Taylor became a cultural icon and one of American history's most celebrated artists, hailed as part of the pantheon that created American modern dance.
The Paul Taylor Dance Company has traveled the globe many times over, bringing Mr. Taylor's ever-burgeoning repertoire to theaters and venues of every size and description in cultural capitals, on college campuses and in rural communities – and often to places modern dance had never been seen before."  Learn More
Spring 2021 Production Schedule
Black History Month with Media Dance Works - "Knowing the Past can Shape the Future"
Friday, February 5, 2021
7:30 p.m.
Learn More & View Online
"Knowing the past can shape the future" is the theme of celebrating Black History Month for the students of media dance at SUNY Potsdam. These students feel that they are working toward preserving a people's culture while not forgetting the history. Their goal is to inspire individuals through dance and build a community with the awareness of inclusivity.
"A Love Letter to Brian, Lesley, and Michelle"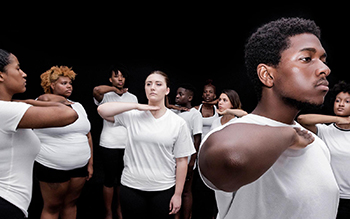 February 14, 15 & 16
7:30 p.m.
Learn More
SUNY Potsdam's Department of Theatre and Dance is proud to present "A Love Letter to Brian, Lesley, and Michelle," a filmed dance-theatre premiere that will stream on Feb. 14, 15 and 16 at 7:30 p.m. The show critically reflects upon the nation's racial narratives, with each performance followed by a question-and-answer session with the creators and performers.
To register for the performance and the question-and-answer session, go to www.cpspotsdam.org. Registration is free.
"Carousel"
March 1 - 5, 2021
Time TBA
Virtual
Presented by the Crane School of Music & Department of Theatre & Dance
Senior Choreographers Concert
Friday, March 5, 2021 at 7:30 p.m.
Friday, April 2, 2021 at 7:30 p.m.
Friday, May 7, 2021 at 7:30 p.m.
Virtual
Free Admission
"North Country Bound"
Friday, March 26, 2021
7:30
Virtual
Free Admission

Join Zoom Reading
Meeting ID: 848 9583 5378
Passcode: 328350

North Country Bound, a new piece of ethnotheatre written by Rivka Rocchio, is based on interviews with retired NYS Corrections Officers and staff. The play explores the impact of prisons in the North Country particular to the experience of correctional officers. This staged reading, held on zoom, will include a Q&A.
Mainstage Theatre Production - "The Laramie Project: Ten Years Later"
Friday, April 23, 2021
7:30 p.m.
Callbacks: Saturday, February 6 from 11 a.m. – 2 p.m.
Virtual Production – April 2021
Published by Josh Vink
Auditions: Virtual - Open to any SUNY Potsdam student
Audition Date/Time: Friday, February 5, 2021 – 5-8 p.m.
Informal Choreographers Concert
Wednesday, May 12, 2021
7:30 p.m.
Virtual
Free Admission
Theatre Showcase/Senior Projects
Thursday, May 13, 2021
7:30 p.m.
Virtual
Free Admission
Past Productions
"Le Nozze di Figaro"
World-class performance opportunities abound for students in both The Crane School of Music and the Department of Theatre and Dance. In 2019, students staged Wolfgang Amadeus Mozart's comic opera "Le Nozze di Figaro (The Marriage of Figaro)" at Sara M. Snell Music Theater.
"Performing in The Marriage of Figaro was an adventure that I will never forget! The Crane Opera Ensemble worked very hard to prepare this opera, bringing laughter and joy to our audiences!"
- Dominique Santiago '20
"Much Ado About Nothing"
In the fall of 2018, SUNY Potsdam's Department of Theatre and Dance presented William Shakespeare's "Much Ado About Nothing," a witty comedy set in the United States post-World War II, which features a raucous rivalry between two adversaries who turn into lovers. The play was performed, designed and technically assisted by SUNY Potsdam students, and featured an actor from the Potsdam community. Assistant Professor Joshua Vink advised and directed the performances.
Faculty Dance Concert (2020)
Biannually, the Dance Faculty at SUNY Potsdam create, collaborate and present their work on stage with our dynamic young movers from the dance program and across the campus. The concepts, themes and content are consistently changing with each concert. The concerts showcase the talents of our student artists in the areas of dance and movement, as well as in technical and design fields of costumes, lighting, and scenic.
"Love and Information"
Directed by Rivka Rocchio, the mysterious and powerful "Love and Information" stoked questions about what it means to have and need information, and to have and need love. In an age of overwhelming amounts of information, where knowledge and facts seem separated, the play asked: Can love be enough to cut through the noise? The 60-minute play moved throughout the Performing Arts Center, and featured a collection of stories and characters around the theme of finding connection in a contemporary landscape. 
Media Dance Works Series
In 2019 - 2020,  performance halls were closed and stages were dark, but SUNY Potsdam students of dance found ways to share their creativity nonetheless. Merging their efforts with student videographers, and using new tools from media arts, student choreographers launched a virtual dance concert series titled "Media Dance Works Series." The events took the place of a concert dance production normally presented in the Performing Arts Center each term.  SUNY Potsdam students choreographed, performed and shot two new virtual dance concert series that showcased creative adaption in the time of COVID-19.
Wiley and the Hairy Man (2019)
Wiley and the Hairy Man was presented by the Department of Theatre and Dance in the Spring of 2019. One cornerstone of the department is their outreach programs. Working with the local communities is a foundation of SUNY Potsdam.This production was a presentation in the genre, Theatre for Young Audiences (TYA). The local elementary and middle schools were invited to come fill the theatre with their laughter and joy.
Student One-Act Festival (2020)
Each term, the Department of Theatre and Dance proudly presents the student's annual Student One-Act Festival and/or 10-Minute play Festival. The festivals are student directed, designed, performed and technically executed. The festivals are a capstone experience generated from their studio and course work. The stage is a laboratory to learn and execute the process of storytelling.
"The Pirates of Penzance"
The timeless Gilbert and Sullivan operetta, "The Pirates of Penzance," was presented in 2018 by the Crane Opera Ensemble. The production was double-cast for many major roles, to highlight the talents of a broader number of Crane students. As a result, each evening performance featured different casting. Led by Musical Director Kirk Severtson, "The Pirates of Penzance" featured students from The Crane School of Music in the cast, as well as students from Crane and the Department of Theatre and Dance behind the scenes.