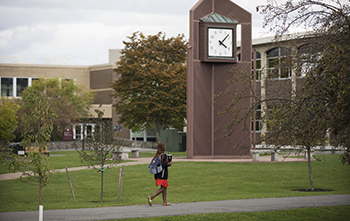 SUNY Potsdam is proud to offer five different graduate degrees offered in the field of teacher education, all based in Watertown. All regular coursework is offered on the campus of Jefferson Community College, and classes are scheduled on weeknights or weekends (Friday/Saturday) to meet the needs of working professionals with other obligations. Both full- and part-time courses of study are available, with rolling admissions starting in the fall, spring and summer semesters.
Our programs offer the following features:
A full time Director and advisor is available in the JCC Extended Learning Center to answer all your questions and guide you through the admissions process and program planning.
Our courses include face-to-face classroom sessions, where you can interact with your fellow students and instructors. And you'll really get to know your professors—the average graduate class student-to-faculty ratio is 10 to 1!
Our courses are taught by experienced, full-time campus faculty and adjunct faculty members who have years of experience in the world of K-12 education as teachers and administrators.
The Master of Science for Teachers, the Literacy Specialist MSEd, and the Certificate of Advanced Study in Inclusive and Special education all offer rich, clinical experiences as part of the program. For details, see below.
If you would like additional information, or to have someone contact you, please complete the Inquiry Survey.
Important Note: Some courses in these programs are delivered online, via distance learning classroom, and on the Potsdam campus.
Helpful Links
Office of Graduate & Continuing Education
Raymond Hall, Suite 206 
8 a.m. - 5 p.m. Monday - Thursday
8 a.m. - 4:30 p.m. Friday 
Email: graduate@potsdam.edu
Phone: (315) 267-2165 or 1-800-458-1142