Close to home. Feels like home. Explore SUNY Potsdam today!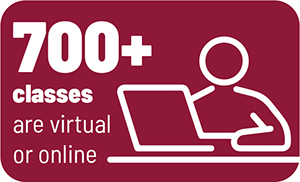 You don't have go far for an amazing education. Join us at SUNY Potsdam for a chance to shape your future with personalized attention from faculty, and a campus community that feels like home, while also being close to home.
Start your path at SUNY Potsdam, then go anywhere.
132 programs
11:1 student-to-faculty ratio
99% employment/grad school acceptance rate
You can kickoff the conversation with our Admissions team at admissions@potsdam.edu or 1-877-POTSDAM. We are ready to answer all of your questions, and offer you support every step of the way.
It's not too late to get started with fall classes in our friendly, caring community.  
If you haven't applied yet, it's not too late! Get started now.
This is the last chance for accepted students to say yes to SUNY Potsdam... 
First, confirm your enrollment and send in your deposit through our student portal.
If you are interested in living on campus for the fall, you need to indicate your intention to live on campus in the intent to enroll form by Saturday, August 1.  
Want to study from home this semester? Just fill out the COVID-19 housing exemption form to study virtually from your residence this semester. 
If you are local and living off-campus, you will still have the opportunity to come to campus for in-person classes, to use the Lougheed Learning Commons and use our commuter dining meal plans if you like. You just need to let us know as soon as possible... 
Undergraduates should declare their intentions to the Student Success Center via email at ssc@potsdam.edu. 
Graduate students should declare their intentions to Graduate and Continuing Education at sharlonm@potsdam.edu.
 
"I'm really glad for this opportunity to do independent research while still as an undergrad. Not all colleges have these kinds of opportunities, so I'm really happy that Potsdam has a program like this."

Anthropology Student from Heuvelton, N.Y.