Excelsior Scholarship Program - What We Know Today (5/4/17)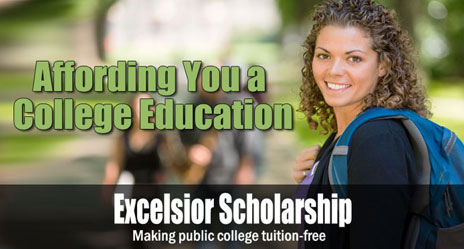 The Excelsior Scholarship is Leading the Way to College Affordability
On April 8, it was announced that Governor Andrew M. Cuomo's Excelsior Scholarship, a first-of-its-kind in the nation program, will provide tuition-free college at New York's public colleges and universities to families making up to $125,000 a year, and is included in the FY 2018 Budget agreement. Details are still emerging. We will update and share information regularly as information becomes available.

Sign Up: HESC is the state agency that is responsible for the TAP program and managing the Excelsior Scholarship. We suggest you go to their website at HESC to receive alerts with information about the scholarship and when the application is available.
Application process: HESC is developing an application for the Excelsior scholarship, which will be available on June 7, 2017.  Students applying for this scholarship must also complete the FAFSA and TAP applications. HESC will determine your eligibility and notify us when you have accepted the scholarship.  Regulations regarding eligibility will be available by June 7, 2017.
Income:  HESC will review the combined family income reported on the federal income tax return and the FAFSA.  For the 2017-18 academic year, applicants will report 2015 tax information.  There is no provision for household size or other family members in college impacting the income threshold for the Excelsior scholarship program.
Federal Adjusted Gross Income (AGI) thresholds:
2017-18: $100,000
2018-19: 110,000
2019-20: $125,000 and thereafter
Impact of other financial aid award programs: Pell, TAP and tuition credit must be applied first.  Please note that other forms of aid may need to be applied before awarding the Excelsior Scholarship.  However, we are waiting for clarification on this matter.
GPA and earned credits: Recipients must earn a passing grade in their coursework to maintain the scholarship.  We are awaiting clarification about further details.
Recipients must complete a total of 30 credits over the course of a year, provided that the student must be enrolled for a minimum of 12 credits in a semester.
Recipients may use winterim and summer terms in accumulating 30 credits within the year. We are awaiting a definition from HESC of when a year starts and ends. 
Credits earned in high school: Credits earned in high school can count toward the combined 30 credits if they are accepted toward the incoming student's program of study (for instance, AP credits).
Duration of award and allowable interruptions and deferments of post graduated requirements: The awards are limited to the length of the program (usually 4 years).  HESC will define allowable interruptions and deferments of post graduation requirements in regulation.  The law allows for interruptions including but not limited to a death of a family member, medical leave, military service and parental leave. HESC has indicated postgraduate deferrals for residing in NYS will include military service and graduate school.  Applicants cannot receive an Excelsior award if they already have a Bachelor's degree.
Post Graduation Residency: The student is required to reside in NYS for the same number of years in which they received the award.  The student does not need to be employed during this period, however they cannot be employed in another state.
Citizenship: Applicants must meet the requirements established by HESC and FAFSA.
Other News
What are the interest rates for federal student loans?
Federal Perkins Loans, available to undergraduate, graduate, and professional students with exceptional financial need, have a fixed interest rate of 5%.
Federal Direct Loans, available to undergraduate, graduate, and professional students, as well as parents, have fixed interest rates that change yearly. Loans disbursed on or after July 1 of each year will be based on the new interest rate. Learn More about the current interest rates for the Federal Direct Loan Program.
 What does sequestration mean for your financial aid?
The following programs may be affected by the series of automatic across-the-board cuts. Learn More.
Federal Direct Loan Program
Federal TEACH Grant Program
Iraq-Afghanistan Service Grant Program