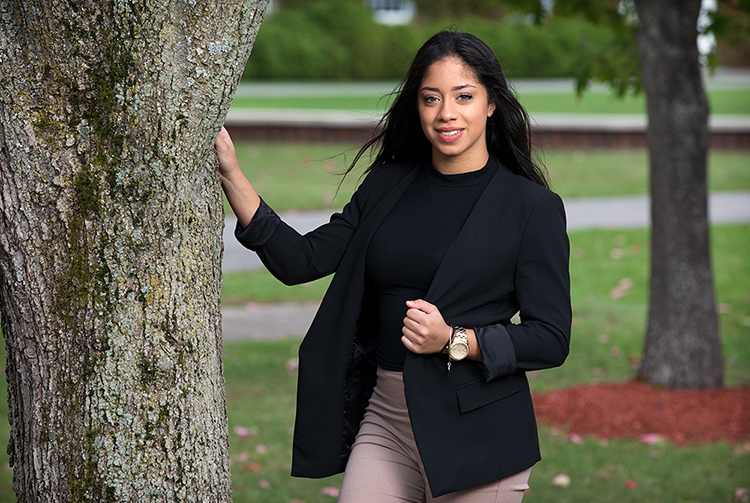 For prospective students, the college application process can be a daunting task—but a good admissions counselor can put students and their families at ease. That's where Diana Valdez '17 steps in. A recent SUNY Potsdam graduate, she has been working as an admissions counselor for just over a month now with six other regional admission counselors. Already the young alumna has hit the ground running, with experience as both a student ambassador and an intern in the Office of Admissions as an undergraduate student.
Although internships were not required for her degree in communications, Valdez went above and beyond by interning with SUNY Potsdam's Office of College Communications and the College's Office of Admissions. During her internship as an admissions counselor, she maintained students' academic records, reviewed enrollment applications and provided guidance to prospective students and their families. "I always try to tell my friends, 'yes, you can go to class, but you have to make those connections, you have to go out of your way to do those things,'" she said.
Her work as a student ambassador was a vital stepping stone in securing both her internship and now a full-time job in the Office of Admissions. Her senior year, Valdez walked into the Office of Admissions and confidently introduced herself to Tom Nesbitt, the director of undergraduate admissions. She told him that she wanted to give campus tours and she discussed her goals with him. The next thing she knew, she was leading tours around campus as a student ambassador. She fell in love with the process and sharing her experiences with prospective students and their families.
"It was a lot about telling people my story and showing them why I love the campus and why I think they should too…I always bring it back to my experiences, and how comfortable I felt being up here—the small classrooms, how everyone is so friendly and the environment," Valdez said.
Valdez got her start in the Bronx where she was raised by a single mother. She said she struggled early in high school career where she found herself dealing with distractions from friends and life in the city. "I had a 69 grade-point average at the end of my sophomore year and that's when I realized that I needed to step it up,' Valdez recalled.
When she graduated from high school, she had improved her GPA and entered Erie Community College her freshman year. After one year there, proving herself by achieving an impressive 3.6 GPA, she transferred to SUNY Potsdam through the Educational Opportunity Program (EOP)—a program aimed at assisting students from lower-income families who faced some challenges in high school. Valdez remembers writing an essay describing her struggles before being accepted into the program. She said that SUNY Potsdam's EOP created a support system for her. "EOP was like a family…I can really call it my home. I spent most of my time there," she said.
As a student, she also spent her time dancing with Team NV and the Bear Witness step team, working as an orientation leader and volunteering for Multicultural Weekend. All of this led to her receiving support from the Bonita L. Betters-Reed Scholarship, in recognition of her demonstrated leadership qualities. Her involvement on campus was inspired by her sister, Rossanna Valdez, who graduated from SUNY Potsdam in 2013. "I really wanted to make a name for myself and I didn't want to disappoint my sister, especially since she made her own name here," Valdez said.  
Her impressive arc from student ambassador, to admissions counselor intern, to a full-time admissions counselor, makes Valdez the perfect person to interact with prospective students interested in attending SUNY Potsdam. She also brings experience in navigating the financial aid process, after spending the past summer working in a position helping families in the Office of Financial Aid.
"Now I'm an admissions counselor and I know the ropes. I know that it's all about persuasion and trying to get students to come here, telling them what they need to know, but also trying to figure them out as well. It's easy to bring students to visit campus, but you have to build that close connection too. Students would like to see someone who remembers things about them, little things, clubs that they're interested in and things like that," Valdez said.
In November, she will be traveling to Buffalo to recruit students with Nesbitt, and then in December she's planning a trip to New York City to meet with prospective students at college fairs for Open House Day, Criminal Justice Day and Education Day to encourage high school students to visit campus. She's excited to meet prospective students and to tell them all about her alma mater.
If you're interested in attending SUNY Potsdam please visit: www.potsdam.edu/admissions.