Virtual Reunion Week 2020
July 06, 2020 08:00 AM to July 10, 2020 08:00 PM
Online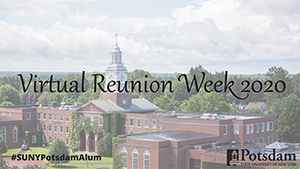 We are excited to invite you to join us for our 2020 Virtual Reunion Week, which will be held July 6-10. A variety of virtual events are available for all to participate in from the comfort of your home.
For the schedule of events follow the SUNY Potsdam Alumni Facebook Page, click "going" on the Virtual Reunion Week 2020 Facebook event and visit the SUNY Potsdam Reunion Website. We look forward to "seeing" you!
Please complete the registration form in order to receive daily emails, July 5 - 9, for reminders of the events and details on how to participate. All Virtual Reunion Week 2020 events are free, and you only attend the events you are interested in participating in.