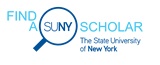 Scholar Universe is a collaborative effort with
COS to develop an online directory of SUNY faculty expertise. With over
2 million entries, Scholar Universe is the largest available collection
of searchable profiles covering active full-time faculty. Scholar
Universe was recently purchased by the Research Foundation of SUNY to
facilitate collaborations across the SUNY system and beyond. Each
faculty member has an expertise profile within Scholar Universe which
will be publicly accessible. Scholar Universe profiles contain name and
contact information, title, degrees, current and prior affiliations,
links to faculty web pages and CVs (as available), a brief expertise
description, and publications list. Publications on the formal Scholar
Universe profile list are drawn from the PubMed, CSA, ProQuest, ERIC and
Agricola citation databases. Publications are updated in an on-going
iterative matching process. All profile information is searchable by
keyword.