SUNY Potsdam Chemistry Professor Publishes Research With Students & Alumni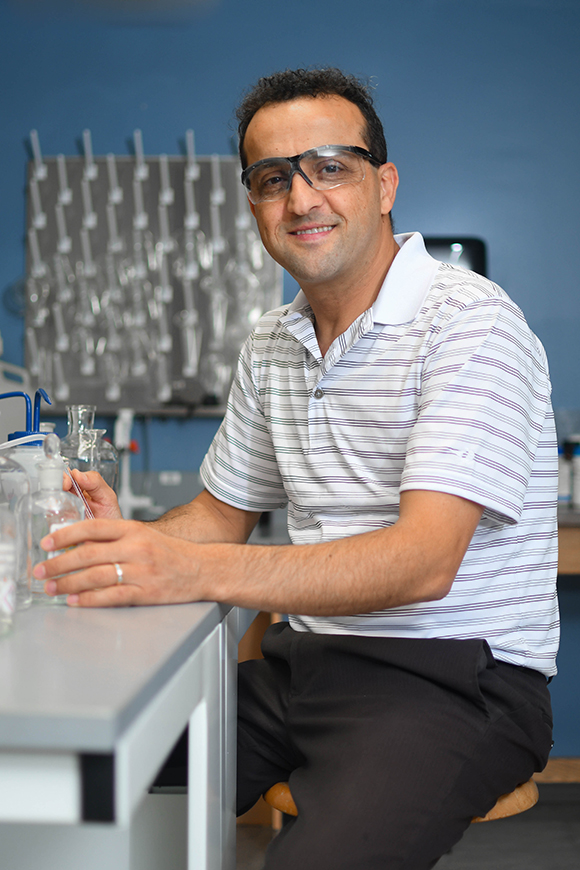 SUNY Potsdam Professor of Chemistry Dr. Fadi Bou-Abdallah has been nationally recognized for his teaching and research, in no small part because undergraduate students in his lab gain valuable experience conducting studies and publishing results.
Over the past year, Dr. Bou-Abdallah has published research co-authored with students or recent graduates in eight different peer-reviewed journals. The papers examined eight different subjects and were co-authored by seven SUNY Potsdam students, six of whom have since graduated.
The seven student co-authors include:
Matthew Mehlenbacher '14, who is currently pursuing his Ph.D. in chemistry at Dartmouth College;
Thomas Giffune '16, who has been offered the position of engineer-scientist at a U.S. Navy base in Virginia and is currently undergoing a background check by the U.S. Department of Defense;
Spurgeon Smith '16, who is working as an analytical chemist at Clean Harbors Environmental Services in Cohoes, N.Y.;
Lindsay Johnson '17, who is now pursuing her doctorate in physical therapy at Texas Woman's University;
Britannia Smith '17 and Lara Varden '17, who are both pursuing doctoral degrees in the Department of Chemistry and Biomolecular Sciences at Clarkson University, and
Sam Sprague '18, who is planning to pursue a master's degree in chemical engineering after completing his undergraduate studies at SUNY Potsdam.
The articles included:
"Saposin B binds the Lipofuscin Bisretinoid A2E and Prevents its Enzymatic Degradation by HRP," published in ChemPhotoChem, 2017, Vol. 1, and featured on the journal's cover. The SUNY Potsdam co-authors included Smith and Bou-Abdallah.
Iron Oxidation and Core Formation in Recombinant Heteropolymer Ferritins," published in Biochemistry, 2017, Vol. 56. The SUNY Potsdam co-authors included Mehlenbacher and Bou-Abdallah.
Effect of Solvent Polarity on the Kinetics of Isomerization of 4-Anilino-4'-Nitroazobenzene," published in the Journal of Thermodynamics and Catalysis, 2017, Vol. 8. The SUNY Potsdam co-authors included Spurgeon and Bou-Abdallah.
Detection and Quantification of Inorganic and Organic Anions in Natural, Potable and Wastewaters in Northern New York Using Capillary Zone Electrophoresis and Indirect UV Detection," published in the Journal of Chromatography and Separation Sciences, 2017, Vol. 8. The SUNY Potsdam co-authors included Varden, Smith and Bou-Abdallah.
Detection and Separation of Inorganic Cations in Natural, Potable and Wastewater Samples Using Capillary Zone Electrophoresis with Indirect UV Detection," published in the American Journal of Analytical Chemistry, 2017, Vol. 8. The SUNY Potsdam co-authors included Varden and Bou-Abdallah.
Binding Thermodynamics of Diclofenac and Naproxen with Human and Bovine Serum Albumins: A Calorimetric and Spectroscopic Study," published in the Journal of Chemical Thermodynamics, 2016, Vol. 103. The SUNY Potsdam co-authors included Sprague, Smith, Giffune and Bou-Abdallah.
Effect of Chaotropes on the Kinetics of Iron Release from Ferritin by Flavin Nucleotides," published in Biochimica et Biophysica Acta, 2017. The SUNY Potsdam co-authors included Johnson and Bou-Abdallah.
Exploring the Multi-Ligand Binding Specificity of Saposin B Reveals Two Binding Sites," to be published in American Chemical Society (ACS) Omega, 2017. The SUNY Potsdam co-authors include Smith and Bou-Abdallah.
Earlier this fall, Bou-Abdallah was named a Cottrell Scholar by the Research Corporation for Science Advancement. The Cottrell Scholar Award develops outstanding teacher-scholars in the fields of chemistry, physics and astronomy, who are recognized by their scientific communities for the quality and innovation of their research programs and their academic leadership skills.
Last year, he was one of only seven professors from across the nation to be honored with a Henry Dreyfus Teacher-Scholar Award from the Camille and Henry Dreyfus Foundation. The award provides an unrestricted research grant of $60,000 to faculty members at primarily undergraduate institutions who are accomplished researchers and committed educators. 
SUNY Potsdam's Department of Chemistry offers a rigorous and well-balanced curriculum that provides a solid foundation for successful graduate study or a career in chemistry or a chemistry-related field. The department is known for its strong and diverse undergraduate research programs, its $1.6 million in grants to support teaching and research, and the success of its students' acceptance to competitive graduate and professional schools. To find out more, visit www.potsdam.edu/academics/AAS/Chem.
Founded in 1816, The State University of New York at Potsdam is one of America's first 50 colleges—and the oldest institution within SUNY. Now in its third century, SUNY Potsdam is distinguished by a legacy of pioneering programs and educational excellence. The College currently enrolls approximately 3,700 undergraduate and graduate students. Home to the world-renowned Crane School of Music, SUNY Potsdam is known for its challenging liberal arts and sciences core, distinction in teacher training and culture of creativity. To learn more, visit www.potsdam.edu.
Media contact:
Alexandra Jacobs Wilke, Office of College Communications,
(315) 267-2918