Crane School of Music Becomes First in SUNY to Offer Ongoing Live Videostreaming of Concerts from the SUNY Potsdam Stage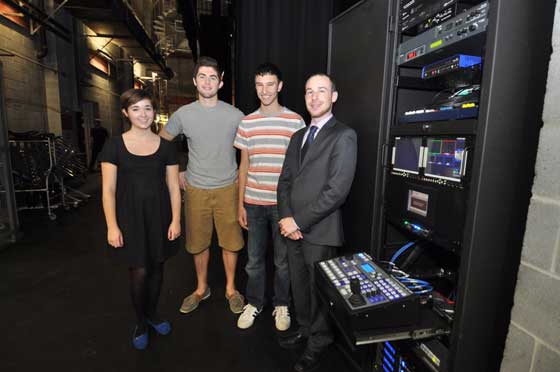 SUNY Potsdam is now the first campus in the State University of New York system to offer comprehensive ongoing videostreaming of concerts and performances—live from The Crane School of Music stage to the world.
Thanks to a generous and visionary gift, Crane can now broadcast performances by major ensembles, faculty recitals, guest artist concerts and more, live on the College's website.
Gail Haynes Stradling '64 and Richard F. Stradling Jr. (St. Lawrence University Class of 1964) recently provided a substantial gift to purchase state-of-the-art video equipment in the Helen M. Hosmer Concert Hall and the Sara M. Snell Music Theater, and, additionally, are establishing an endowment fund to maintain and replace the equipment in perpetuity. The Gail and Richard Stradling Technology Endowment for The Crane School of Music will bring Crane's music to audiences around the world in an unprecedented way.
"We haven't even begun to discover the potential of this gift," Crane School of Music Dean Dr. Michael Sitton said. "For our students, family members and friends from other places who are unable to attend performances can now experience concerts from home; a current student's parent reported to me with delight that her son's grandmother was able to see and hear his first performance with one of our ensembles, something she could not have experienced otherwise. Our alumni, donors and friends from across the globe are now able to connect with the artistry and music making at Crane in a new way. Prospective students can see our conductors and artist faculty, hearing what's in store for them at Crane. Some students will obtain hands-on experience learning to work with state-of-the art video and audio equipment, under faculty supervision, and many other educational and outreach possibilities remain to be explored. We are deeply grateful to Gail and Dick Stradling for this gift, whose immense benefits will reach far into the future and around the world."
Joshua Emanuel '11 knows firsthand just how transformative the technology will be for the Crane community. After graduating from SUNY Potsdam with his bachelor's degree in music education and percussion studies, with a minor in jazz, he went on to earn his master's degree in music technology at Indiana University-Purdue University, Indianapolis. After working as a music teacher for a year, he took a position as a visiting instructor and music technology coordinator at his alma mater this year, while Dr. Peter McCoy is on sabbatical. Now, he's in charge of the video broadcast equipment for the 2013-14 academic year, and with training three student assistants from Crane to film concerts throughout the year.
"When I was a student, my family could only visit once or twice a year because they were a six-hour drive away. They would have been watching all the time to see my performances throughout the year. I think for our students, this will really build excitement for concerts," Emanuel said.
Backstage in Hosmer Hall and Snell Theater, now you can find sophisticated control panels where Emanuel and the student assistants can control the cameras aimed at each stage. Each venue has four cameras—three pointed at the stage from the audience's perspective, facing toward center stage, stage left and stage right. Hosmer's fourth camera is pointed toward the conductor's podium, while Snell's final camera is portable so that it can be moved on stage or in the pit, depending on where the performance is being conducted. From their perch backstage, operators can pan, zoom and switch views for the online viewers.
The audio feed comes from Crane's existing audio livestream equipment, which has been used to concert sound online for the past several years. The sound is balanced and recorded by Crane audio engineers and trained students.
The Stradlings' gift hasn't just brought Crane performances to the world—it has also improved the concert experience for performers and audience alike.
The video operators also have the ability to control which image is displayed on brand-new television monitors that are mounted backstage in Hosmer and Snell, so that performers can see what's happening on stage while they wait to go on. 
In addition, there are also new monitors in the hallways and lobbies for the concert hall and music theater, so that patrons who arrive late or have to step out can watch the performance while they wait to return to their seats.
Finally, the infusion of technology offers an unparalleled educational experience for the students who are training to film and broadcast concerts online, as they learn not only about the equipment needs and visual presentation, but also how best to work with the directors of ensembles, with whom they will consult before streaming an event.
The student assistants this semester are Bridgid Bergin, a junior musical studies major with a concentration in viola, and Sean Lucas and Andres Vahos, who are both junior music education majors focusing on percussion.
"We are learning a lot about score reading, as we follow the piece to know when to switch shots. This involves a lot of artistic planning," said Lucas.
For a list of upcoming performances that will be broadcast live on the College's website, including concert programs, visit www.potsdam.edu/academics/Crane/streaming.
Founded in 1886, SUNY Potsdam's Crane School of Music has a long legacy of excellence in music education and performance. Life at Crane includes an incredible array of more than 300 recitals, lectures and concerts presented by faculty, students and guests each year. The Crane School of Music is the State University of New York's only All-Steinway institution.
Media contact:
Alexandra Jacobs Wilke, Office of Public Affairs,
(315) 267-2918