SUNY Potsdam Ranked in Top Tier of Nothern Regional Universities by U.S. News & World Report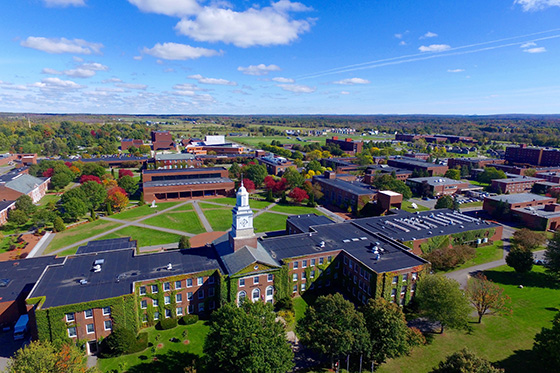 The State University of New York at Potsdam has once again been named one of the best regional universities in the Northern United States by U.S. News & World Report.
SUNY Potsdam was ranked in the top tier of public and private institutions in the Northern Regional Universities category in the 2016 edition of "America's Best Colleges," released today by U.S. News Media Group. This is the eighteenth consecutive year that the College has been recognized in the rankings.
U.S. News & World Report bases the Best Colleges rankings on assessment by peer institutions, graduation and retention rates, faculty resources, student selectivity, financial resources and alumni giving.
"The U.S. News & World Report rankings are a testament to the excellent programs and services provided by faculty and staff across SUNY, and a reminder to our current and future students that SUNY is dedicated to providing them with a highly valuable degree that will serve them well long after graduation," said SUNY Chancellor Nancy L. Zimpher. "Congratulations to SUNY Potsdam on this much-deserved recognition."
The news organization classifies regional universities as public and private colleges that provide a full range of undergraduate majors and master's programs, but offer few, if any, doctoral programs. The 577 regional universities that U.S. News & World Report examined for this year's guide were ranked against their peer group in four geographic regions—the North, South, Midwest and West, and rated as either top or second tier.
The U.S. News & World Report rankings will be published in the September issue of the magazine, which hits newsstands today. For more information about "America's Best Colleges," visit www.usnews.com/colleges.
Founded in 1816, The State University of New York at Potsdam is one of America's first 50 colleges—and the oldest institution within SUNY. As the College marks its bicentennial in 2016, SUNY Potsdam will celebrate a 200-year legacy of pioneering programs and educational excellence. The College currently enrolls approximately 4,100 undergraduate and graduate students. Home to the world-renowned Crane School of Music, SUNY Potsdam is known for its challenging liberal arts and sciences core, distinction in teacher training and leadership in the arts. Empowered by a culture of creativity, the campus community is nearing the completion of Take the Lead: The Campaign for Potsdam, which has raised $33.5 million for scholarships and programs.
Media contact:
Alexandra Jacobs Wilke, Office of Public Affairs,
(315) 267-2918