In collaboration with the Center for Diversity and the Division of Diversity, Equity and Inclusion, the Office of Native American Affairs was established in January of 2016, to help increase recruitment, retention and the graduation rate of Native American students. The Office of Native American Affairs works closely with the: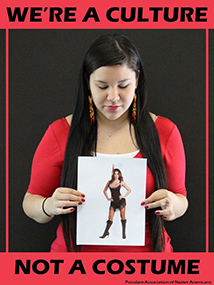 School of Education and Professional Studies
Modern Language Department
Women and Gender Studies
Native American Studies Program
First Nations Student Association (FNSA)
The Office of Native American Affairs also works closely with members of the Akwesasne community to help bridge the gap and create networking possibilities and collaborations in order to support student transition to college. Throughout the school year, different types of workshops, educational and cultural programming, activities, guest speakers and field trips are implemented. In addition to receiving the tools necessary for academic success, the office will provide on-going opportunities to attend conferences for students who are involved with the Office of Native American Affairs who demonstrate leadership potential.
Please stop by our office which is located on the 2nd floor of Sisson Hall room 216 Monday through Friday from 8 a.m. - 4 p.m. for your home away from home environment. Everyone is encouraged to learn more about the Office of Native American Affairs.