Riding Out the Storm
Collectively and as individuals, we are facing a near "perfect storm" of anxiety triggers. As the COVID-19 pandemic shutters businesses, forces classes into online formats and creates a formidable challenge for even seeing a doctor or dentist, many of us are awake at night, staring at the ceiling.
Pacing through our minds are fears about our own health, the health of our families, the status of our jobs, the viability of our economy. We are even witnessing some of our old luminaries dying of the virus — John Prine, Terrence McNally, Mark Blum, to name a few.
To make matters worse, we cannot go out to visit and communicate in the intimate, face-to-face manner that has been as vital as breath since the earliest days of our race. We battle, persistently, a feeling of imposed isolation.
And yet, we know we are the lucky ones. The weather has warmed and on certain turns of the wind, we are positive that we smell spring.
We cannot give in; we have to soldier on. Part of the movement forward and through the pandemic is knowing that it is perfectly normal to feel frightened and confused, and that there are ways to reach out and share what we are feeling.
The SUNY Potsdam Counseling Center has been a longstanding resource for students experiencing their own personal storm. Increasingly, there is evidence of the center's importance now, and of the value of work done by its counselors and staff. Mental health is emerging as a critical component of the COVID-19 pandemic.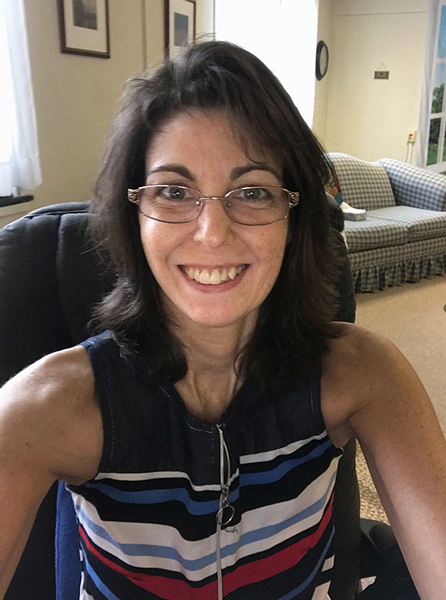 We reached out to Gena Nelson, director of counseling at the center. Though busy, she was kind enough to answers questions and shares the following insights with the SUNY Potsdam community:
What kinds of concerns are you hearing in calls to the Counseling Center?
Many of our students were already struggling with mental health concerns and this crisis has exacerbated those symptoms in many ways. Similar to ourselves as adults, our students are struggling with depression and anxiety related to the unknowns and sudden changes this crisis has created, in addition to the unexpected online learning component.
 How does the Counseling Center address these issues?
All of our counselors are working with students virtually and focusing on 'locus of control' — teaching our students to be mindful of what is in their control and what is not. We are doing trauma work and also continuing work with coping strategies, and encouraging the basics: sleeping, eating, stretching, and socializing virtually. Utilizing cognitive-behavioral strategies helps students focus on how their thoughts are creating their emotions. We work to change the thoughts to cope with the anxiety, stress and fear. However, the reality we have right now is pretty frightening and we can't ignore that.
We are all seeing students, creating videos, doing outreach to various students, working with students in crisis and participating in campus meetings as usual. In addition, we are offering individual or group support to faculty and staff. That can be organized by emailing me directly. 
Also, we have a social media presence through Facebook and Instagram to share coping strategies, encouragement and events that could be helpful to anyone in the SUNY Potsdam community.
Is there anything that you find particularly striking or telling in the stories from our students?
What is very striking is the stories that we're hearing from students in the New York City area. There are family members on ventilators; some live in areas unsafe to step outside due to violence, therefore they are literally locked inside their homes; some live near hospitals where they're watching the dead being brought out. Many students are going through acute trauma right now and have no escape and sometimes no supportive people around them physically. It's not possible to heal from trauma while it is continuing. Many of these students will return to campus with PTSD; it will change the makeup of our population and of the type of work done in our office in the future.
Do you have any advice for the community in this time?
Be a good human. 
Everyone reacts to crisis differently.  If you don't believe the guidelines are necessary, follow them for your friends' sake. Don't listen to gossip – it's never 100 percent true. Go to the SUNY Potsdam COVID-19 page for details.
Give yourself permission to be angry, sad, confused, worried and even happy. There are no wrong emotions, but there are wrong behaviors.
 The SUNY Potsdam Counseling Center wants our community and our students, in particular, to know that that they are thought of, they are loved, and that help is a call away.
Learn more about the Counseling Center and ways to get in touch here: https://bit.ly/34lH7OF
Article by Bret Yager