SUNY Potsdam Student Provides Translation For Former Cuban Educator
Yonie Montes, a junior at SUNY Potsdam from Queens, had the opportunity to be a Spanish translator for Griselda Aguilera, a former Cuban Literacy Campaign volunteer, during her visit to campus from Feb. 8 – Feb. 10 with world-renowned documentary filmmaker Catherine Murphy.
Aguilera is featured in Murphy's documentary film, "Maestra," that was screened in the Performing Arts Center's Black Box Theater on Thursday, Feb. 8. The film explores the lives of eight women who, as young girls, taught in the Cuban Literacy Campaign of 1961. The Cuban Literacy Campaign enlisted 250,000 volunteer teachers to help teach their neighbors how to read and write.
Murphy's 33-minute documentary was made over a ten-year period, as she traveled back and forth from the United States to Cuba interviewing close to 100 people for the film, including Aguilera, who was one of eight women featured in the film.
Born in Mexico, Montes moved to the United States in 2007 when he was 11 years-old. He received real world experience on campus working closely with Aguilera. He said this was his first time working as a translator since helping his mother, and other Spanish speaking parents, during parent teacher conferences at his high school in Queens.
This was a much larger stage for him and he was able to see what it's like to be a translator for a bigger audience. "It was great! It's interesting to see how the language might be different, but expressing the idea is the same." He explained that in many cases he could have just translated the same word from Spanish to English, however the challenge was expressing the feeling or the idea of what Aguilera was trying to say.
Montes is pursuing a degree in Business Administration and Spanish. He hopes to work as translator after college and is interested in learning more about obtaining a translator certificate, which would allow him to be a translator in any field.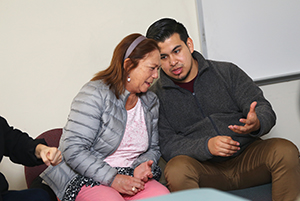 Yonie Montes, right, a junior at SUNY Potsdam translates for Griselda Aguilera, a former Cuban Literacy Campaign volunteer, during her visit to SUNY Potsdam on Friday, Feb. 10, 2017.