Open House
Fall Open House events will be November 5 and November 12. High school juniors, seniors and transfer students will benefit from our Open House events. Check in begins at 9:00 a.m. and the day will consist of meeting with faculty, staff and administrators, a campus tour, special interest sessions and lunch.  Register online today!
Individual Campus Visit
Freshman and Transfer Students Welcome! Available Monday through Friday, an individual campus visit includes a comprehensive tour of the campus, including the Maxcy Hall Athletic Complex, and an interview with an admissions counselor.
To schedule your individual campus visit, contact Lisa Martin, Visit Coordinator, at:
E-mail: visit@potsdam.edu
Phone: 1-877-POTSDAM (toll free) or (315) 267-2180


SUNY Potsdam Admissions
Transfer Visit Day
This event is being held on Monday, November 21, 2016 from 8:30 a.m. - 2:30 p.m. You will be able to take a campus tour, meet with a professor, attend a transfer workshop, interact with a student panel, and have lunch on campus. Register online today!
Transfer Appointments in NYC
Do you live in the NYC Metro area?  Do you want to talk to someone about transferring to SUNY Potsdam?  Then this is for you; meet with a Transfer Admissions Counselor to talk about your options to GO FURTHER at SUNY Potsdam.  We will be offering individual appointments from 10am-5pm and an Open Session from 6-8 p.m.  Click here to sign up today!
Multicultural Weekend
Please check back for Multicultural Weekend 2017 information!
Off-Campus Regional Receptions
The spring 2016 off-campus Regional Receptions are now over. Please check back for fall 2016 dates!  
See for Yourself.
We can tell you about the Potsdam experience, but to get the complete picture, you need to see it for yourself. Check out the dining and lodging available in Potsdam.

Check Out Our Video Gallery
Can't make it in person? A virtual tour of SUNY Potsdam is the next best thing! Check out our video gallery to get a flavor of Potsdam.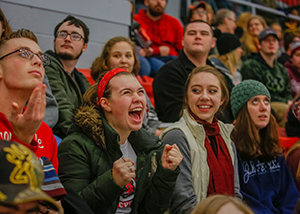 Why is a campus visit so important?

The campus visit is a vital step in the admissions process.  It allows prospective students to see if the campus is the right "fit."  A visit also shows the admissions staff that you are serious about Potsdam and have a high level of interest in making this your home for the next four years.  Finally, prospective students get the chance to interview with an admissions counselor.  This is the time for students to ask  questions and to showcase their abilities both in and out of the classroom.