Travel Information & Directions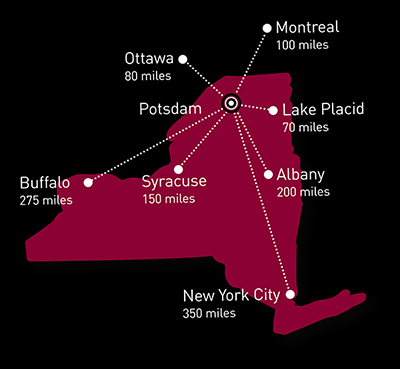 SUNY Potsdam is located in New York's beautiful North Country—smack dab between the scenic Adirondack Mountains and the Canadian border. In our small but vibrant community, you'll find a historic downtown with Victorian sandstone buildings, and a college town atmosphere that will make you instantly feel right at home. For many people, it takes quite a journey to get to Potsdam—but it's a beautiful one you won't soon forget! If you have any questions about which route is the best to take, please don't hesitate to contact the Office of Admissions, by emailing visit@potsdam.edu, or calling 1-877-POTSDAM (toll-free) or (315) 267-2180.
Where can you find us?
The State University of New York at Potsdam
Office of Admissions, Raymond Hall
44 Pierrepont Ave., Potsdam, NY 13676