Last fall Alison Thompson received a phone call letting her know that she had received a very generous scholarship from the Lougheed-Kofoed family granting her the opportunity to pursue an applied learning experience. She received a scholarship for $5000, and she knew this would be a great opportunity to study abroad. So, she went ahead and booked a two-week trip to Europe with EF Educational Tours.
The grant fully covered the expenses of a trip to Europe from December 29, 2016 - January 9, 2017 where she was able to explore England, France and Italy and her passion for photography. She visited Parliament, Buckingham Palace, The Eiffel Tower, The Louvre, Versailles, the Roman Forum and Colosseum and the Vatican City. The tour was designed for her to create her own schedule, so she attempted to visit every museum possible and explore the cities on foot.
"The Lougheed Scholarship provided me with the opportunity to travel to countries I never thought I would have the chance to explore, allowing me to see art and culture I only imagined I'd ever see in textbooks," Thompson said.
An excerpt from her travel journal is below:
Thursday, December 29, 2016
My mother, brother and I left for my first flight in Montreal around 10 in the morning, and my first flight (which was to JFK) was delayed over two hours. When we finally departed, we were able to make it by 8 to New York, where I thought I would have enough time to eat dinner and print my boarding pass. Well, being a small town girl, of course I got lost! After finally getting to my terminal by airtrain, I was late to check in, and by the time I made the security check, my flight to London was boarding. In a panic, I asked people if I could cut ahead due to my situation, and their blessed souls let me. Good karma is coming your way! I ended up making it JUST in time as the last section was boarding. So yes, I can officially say I was that woman running through the terminal with her shoes half-on and frantically looking for her gate!
Saturday, December 31, 2016
WOW, WHAT A GREAT DAY! Started off the day with a bus and walking tour of London. Saw some popular shops, places filmed for Harry Potter, and the Parliament buildings! Not only was our tour guide a hysterical man, he taught us so much about London culture and history. Then walked around central London, road the tube for the first time, and saw the National Gallery, where you can see one of van Gogh's works (it was next to the famous sunflower, but I like this one more!). Also rode the London Eye, ate English dishes, and celebrated New Years in a club with a countdown and champagne! It is now 3:30AM and I am on a bus back to the hotel. So ready to rest my feet. HAPPY NEW YEAR!
Sunday, January 1, 2017
Day 4 and I am still busy, busy, BUSY! Went on a walk through Hyde Park and enjoyed going to the Tate Britain, but before that I was able to go on a hunt to find Banksy works! This was a spectacular moment finding this.
Monday January 2, 2017
On this day of my European adventure, I travelled by train (under the sea) to Paris, France. This city is nothing as I imaged; it's street art, architecture, and smell (cherries and cigarettes) awed my eyes and heart.
Tuesday, January 3, 2017
Another brilliant and productive day in Europe! I got up bright and early to climb up the Eiffel Tower, as well as visit a variety of churches, such as Notre Dame. With that I also enjoyed French cuisine at its finest in its local pubs and restaurants. Here, I am facing the out landscape of the city at Montemarte, home of some of the most famous artists' studios. I was able take two rolls today, and am looking forward on how they will they turn out.
Wednesday, January 4, 2017
WOW. My last day in Paris. The time is truly going by fast. Today I was on my feet non-stop as I visited the famous Palace of Versailles, as well as the wonderful museum The Louvre. Also on this day I saw my first cabaret inspired by Moulin Rouge (which I had never seen before, so I had no idea what I was getting myself into!). From 7:00AM to midnight today I have been constantly on my feet learning and embracing the culture around me. Although I am exhausted and would like to sleep for a month straight, I am thankful to be blessed with being here on a scholarship. I am also grateful for these girls here, which I decided to post as my photo today. I was nervous coming into this trip alone, thinking I wasn't going to make friends. But wow was I wrong! From my first car-ride with Amanda, to getting lost in the streets of London with Brittany, and enjoying coffee and lunch breaks with Alesha, I am so appreciative to be roommates with these girls. My memories with them will be cherished forever, and it's good to know that no matter where I am in the United States, I have these girls and my other fellow group members to rely on to have a place to stay.
Sunday January 8, 2017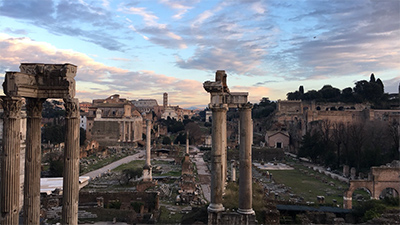 Today was my last official day in Rome. I cannot believe the time has gone by so quickly… this day was unbelievable. I started out in the early morning taking a homemade pasta making class. We each made our own dough and I can honestly say I'm a pretty good cook! After the class, I went shopping and visited the beautiful Capitoline Museum. I was able to see some of my favorite works, such as pieces done by Caravaggio and the famous Capitoline Wolf sculpture. This picture shows my most favorite part of the day; a view of the Roman Forum from the Capitoline Museum. Such an awe-moment… may have started tearing up just staring off into this historically recognized landscape. What a day.
Thursday January 12, 2017
As I look back on the past few weeks, I remind myself on how grateful I am to have had this experience. I am overwhelmed with the possibilities there are out there when you work hard and try your best. If it wasn't for my persistence and dedication, I wouldn't be able to say I visited Europe for two weeks on a scholarship. I am overjoyed and filled with love and gratitude, and am excited to present my photographs to the Lougheeds during the LoKo Festival during my presentation. Though it was a tough two weeks of lugging around 3 cameras and trying to balance when to take photographs and when to just enjoy the moment, I am truly blessed and happy with how successful this trip was. I won't call it a vacation by any means; 12-16 hour days of walking, running to catch the metro, and working your butt off to get the perfect shot… definitely not a relaxing trip, but most certainly an educational experience, culturally, socially, and artistically. I post this picture here because I feel like ultimately, this trip helped me understand who I am. I am Alison. And no one can stop me from accomplishing my dreams. Thank you to everyone who followed my blog and snapstory the whole way. It was one heck of a ride.
Her full journal can be viewed here with more of her photography.