Student Government Association (SGA)
Student Organizations
For information about student clubs, visit Clubs & Organizations. If you would like more information than is list on a club or organization, please contact the SGA office at (315) 267-2588.
Services
In addition to all of our organizations, the SGA also provides the following services:
Legal Aid is a service that allows students with questions of a legal nature to get free consultations with a local lawyer. For more information and to schedule an appointment, stop by the SGA office in 213 Barrington Student Union, or call (315) 267-2588. All cases are confidential.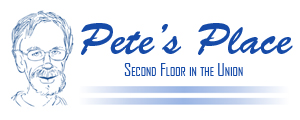 Pete's Place, located on the second floor of the Barrington Student Union, is a place to hang out and play pool, ping-pong, foosball, darts or air-hockey for a very nominal fee. Learn More about the various activities and events you can sign up for.
 

Venture Outdoors, located in the Barrington Student Union, is our outdoor equipment rental shop. Learn more about Venture Outdoors and the Wilderness trips you can sign up for in the fall.

The Intramural Sports program offers a wide variety of sports contests on campus for both individual and team participation. Upcoming events are posted on the bulletin board under the left stairs in the Union Lobby. For more information call the Intramurals Office at x2619.
The SGA Off-Campus Housing List
Download the latest Off Campus Housing List (PDF) here. The SGA Housing list is a compilation of local landlord's listings of houses and apartments available for students to rent. Students can expect to see listings for the upcoming semester as early as seven months ahead of time. The list can also be faxed, emailed, or mailed to you, or may be picked up from the SGA Office. For helpful information about living off-campus, check out the Off-Campus Survival Guide (PDF).