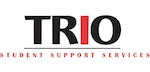 TRiO programs are federally funded outreach and student services programs designed to identify and provide services for individuals from disadvantaged backgrounds.
The mission of TRiO at SUNY Potsdam is to provide the academic support
necessary to help a maximum of 200 students each year remain in school and reach graduation.
Spring 2017
Hello everybody! We at TRiO are so glad you are back on campus. The quiet was nice, for a few days, and then we started missing you.
Let's catch you up on what is happening here:
Tanya Dow has resigned her position with TRiO and is now working with the College Counseling Center and with Bridges. TRiO is in the process of hiring a new counselor and look forward to having you meet the person soon. Tanya will be in her Bridges office on Wednesday afternoons, and all day Thursdays and Fridays. While you cannot meet with her, you can stop by and say hi!
Valerie Pelkey, Administrative Assistant, is retiring on February 3. Lorraine Njoki will be joining our TRiO staff on Monday, January 23. She and Valerie will work together as Lorraine transitions in and Valerie transitions out of TRiO. Please stop by and say hello to Valerie and introduce yourself to Lorraine.
Current TRiO participants can begin making tutor requests on Monday, January 23. Assignments will not start until Monday, January 30 (giving time for that add/drop period that so many of you use).
To make a tutor request, come into the office, 119 Sisson between 8-4. To schedule a meeting with Mark or Faye, call (315) 267-2347 or stop by the office.
TRiO participants (current or prior) on Academic Warning or Probation are STRONGLY ENCOURAGED to make an appointment to meet with a TRiO staff member to establish an academic plan for success.
Finally, we look forward to seeing you, working with you, and getting to know you even better this semester.
Eligibility Requirements
TRiO participants must have a demonstrated need for academic support; they must be U.S. citizens or permanent residents and accepted for college enrollment.
Participants must also meet one or more of the following criteria:

be a first generation college-student, i.e., neither parent has a four year college degree, and/or
must have a family income within the limits set by the U.S. Department of Education and verified by the TRiO Office, and/or
have documentation of a physical, emotional and/or learning disability.
Participation Requirements
TRiO participants are expected to:
be responsible for responding to communication from TRiO via standard methods;
complete a Study Skills, Financial Literacy and Strengths Quest activity as recommended by TRiO staff;
be prepared for, attend and participate in classes, tutoring sessions, staff appointments, etc.;
allow TRiO staff to track their academic progress and make recommendations;
give TRiO staff permission to discuss their participation in the program with faculty, staff and tutors to provide relevant and timely services .
TRiO Services
Application and Reactivation forms are available in the TRiO Main Office, 119 Sisson, between 8 a.m.- 4 p.m., Monday through Friday.
TRiO is here to help you succeed!



Contact us at:

TRiO
119 Sisson Hall
Office Hours - 8 a.m - 4 p.m
(315) 267-2347
trio@potsdam.edu
We're here to help you succeed!