Crane School of Music Hosts Maestro Antony Walker for Closing Concert of the 2018 LoKo Festival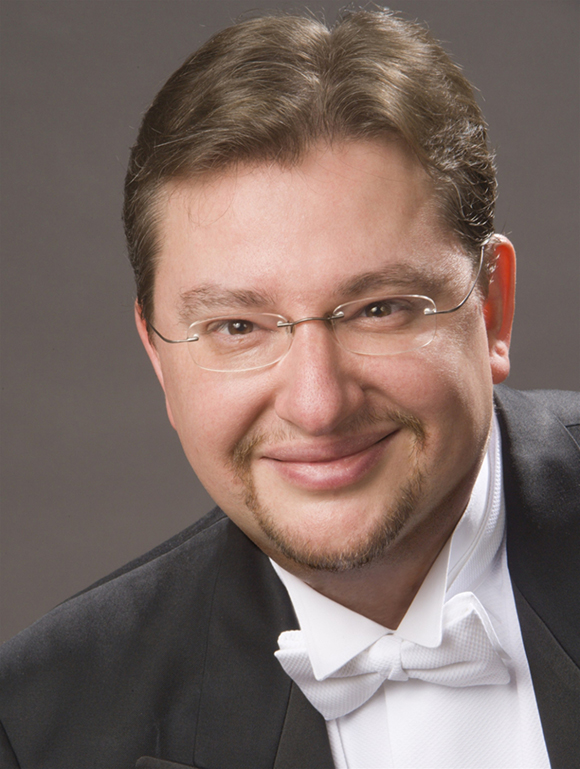 SUNY Potsdam's Crane School of Music will welcome distinguished visiting artists and present a special concert to close the 2018 LoKo Arts Festival.
Maestro Antony Walker is set to conduct the Crane Chorus and the Crane Symphony Orchestra in a performance of Sergei Prokofiev's "Alexander Nevsky, Op. 38," and Ralph Vaughan Williams' "Dona Nobis Pacem," on Saturday, May 5 at 7:30 p.m., in the Helen M. Hosmer Concert Hall.
Three vocal soloists will also take the stage, including guest artist Suzanne Hendrix (mezzo-soprano), and Crane faculty members Suzanne Kantorski (soprano) and Johnathan Stinson (baritone).
The concert will close out 10 days of activities taking place all across campus during the LoKo Arts Festival, including an array of masterclasses, presentations and performances at The Crane School of Music. All events are free, and the public is invited to attend. For a full schedule of events, visit www.potsdam.edu/loko.
"We are enthusiastically looking toward this year's LoKo Arts Festival, and are very proud of its growth over the past seven years, especially in the way it has now embraced and been embraced by all of SUNY Potsdam, both with respect to events occurring in every part of our campus, and with the very wide range of events that are part of its schedule," said Crane School of Music Dean Dr. Michael Sitton. "I'm especially excited by the way in which it both engages our campus with distinguished guest artists, and, at the same time, engages our own students and puts the spotlight on their wonderful creative work. How appropriate to celebrate the evidence of student applied learning in the LoKo Festival, as we celebrate Don and Kathy Lougheeds' recent historic gift to SUNY Potsdam in support of applied learning!"
Maestro Walker will complete a residency on campus during the festival, as the 2018 Dorothy Albrecht Gregory Visiting Conductor. Both he and visiting guest artist Hendrix will lead masterclasses, in conducting and voice, respectively.
The concert is free, but tickets are required, as there is limited space. To reserve free tickets, contact the Community Performance Series Box Office at (315) 267-2277.
The May 5 performance will stream live online at the concert time, so that alumni, parents and friends who can't make it to Potsdam can experience the artistry from home. To view this and other upcoming livestreaming performances, visit http://www.potsdam.edu/academics/Crane/streaming.
The festival's musical highlights include:
Wednesday, May 2: Visiting conductor Antony Walker will lead an open Q&A session at noon in Snell Theater, followed by a conducting masterclass on operatic repertoire at 2 p.m., also in Snell. At 6 p.m., Crane faculty members Tim Sullivan (percussion), Casey Grev (saxophone) and Max Howard (piano) will perform improvisations to a soundscape of electronic music composed by Jerod Sommerfeldt, in an immersive "Meditation Room" presentation. Audience members are invited to bring yoga mats if they wish, although seating is provided. This event will be held in the Black Box Theater, located in the Performing Arts Center.
Friday, May 4: Visiting mezzo-soprano Suzanne Hendrix will lead a vocal masterclass with Crane voice students at 1 p.m. in Snell Theater.
Saturday, May 5: Crane Audio Engineer Emeritus Gary Galo will offer a presentation about Stanley Chapple, who appeared eight times as a guest conductor at Crane, at 9:30 a.m., in the Ralph Wakefield Recital Hall. Immediately following, Galo will offer a "centennial tribute" to Brock McElheran, who would have turned 100 this year, with excerpts of performances that he conducted during his 41 years at Crane. This presentation will be at 10:45 a.m., also in Wakefield. At noon, SUNY Potsdam student musicians will perform downtown at Brick & Mortar Music, located at 15 Market St. That evening, Dr. Gary Busch will offer a pre-concert presentation, titled "Visions of War and Peace," exploring the history, ideas and music to be presented in the concert. The presentation will be at 6:30 p.m. in Wakefield. The concert featuring the Crane Chorus and Crane Symphony Orchestra, along with the three vocalists, conducted by Maestro Walker, will begin at 7:30 p.m. in Hosmer Hall. Audience members are invited to enjoy an exhibition of recent acquisitions of Andy Warhol prints in the Hosmer Hall Gallery, located in the lobby, prior to and following the performance.
About the guest artists:
Maestro Antony Walker is celebrating his twelfth season at Pittsburgh Opera in 2017-18. He made his Metropolitan Opera debut in 2011, with Gluck's "Orfeo ed Euridice," and has returned to The Met since then to conduct "Il Barbiere di Siviglia," "The Pearl Fishers" and "The Magic Flute." Walker enjoys superlative reviews, not only for his Pittsburgh Opera productions, but also his recent concert performances of Massenet's rarely-performed "Hérodiade" and Beethoven's "Leonore" at Washington Concert Opera. In 2010, he made debuts at the English National Opera in "Lucia di Lammermoor," at Canadian Opera Company in "Maria Stuarda" and at The Santa Fe Opera in "Madama Butterfly." In 2016, Walker was proud to conduct Rossini's monumental "Semiramide" in Florence, Italy, where the operatic art form was born. He currently serves as artistic director of Washington Concert Opera in Washington, D.C., as founding artistic director and conductor emeritus of Pinchgut Opera in Australia, and was music director of Cantillation and the Orchestra of the Antipodes for almost two decades. He was chorus master and staff conductor for the Welsh National Opera from 1998 to 2002, and musical director of the Sydney Philharmonia Choirs from 1992 to 1997. Since his conducting debut in 1991, Walker has led nearly 200 operas, large-scale choral and orchestral works, and numerous symphonic and chamber works with companies in Europe, North America and Australia. His extraordinary career includes engagements with Opera Australia, Welsh National Opera, New York City Opera, Teatro Comunale Bologna, Orchestre Colonne (Paris), Wolf Trap Opera, the Merola Program at the San Francisco Opera, Cincinnati Opera, the Glimmerglass Festival, Opera Theatre of Saint Louis, Vancouver Opera, Sydney Symphony Orchestra, Melbourne Symphony Orchestra and Sydney Opera House Orchestra.
Mezzo-soprano Suzanne Hendrix recently debuted at Frankfurt Opera in "Il Trittico,"and returned to the Lyric Opera of Chicago for "Wozzeck," "Le Nozze di Figaro" and "Das Rheingold." Prior to that, she performed Waltraute in Seattle Opera's production of Wagner's "Der Ring des Nibelungen," made her European debut at Grand Théâtre de Genève as Grimgerde in its new production of "Die Walküre," returned to San Francisco Opera as Mrs. Ott in "Susannah," covered Azucena with the Lyric Opera of Chicago, and made her debut with the Vienna Staatsoper in the roles of Larina in "Eugene Onegin" and Dritte Blumenmädchen in "Parsifal," as well as covering Fenena in "Nabucco" and Suzuki in "Madama Butterfly." The 2017-18 season includes Verdi's "Requiem" with Grand Rapids Symphony, and her return to the Santa Fe Opera for "L'Italiana in Algieri." Next season, she will join the Metropolitan Opera for Wagner's "Die Walküre," and make her debut with Hawaii Opera Theatre in "Eugene Onegin." Other recent engagements include performances with the Wichita Grand Opera, Santa Fe Opera, Opera Memphis and Lyric Opera of Kansas City. Hendrix made her San Francisco Opera debut in 2011 in "Die Walküre" in the role of Schwertleite. On the concert stage, Hendrix has appeared as a soloist in Durufé's "Requiem," Britten's "Rejoice in the Lamb" and Handel's "Messiah," among other pieces. She is a former apprentice artist with Des Moines Metro Opera, the Merola Opera Program and the Santa Fe Opera. Hendrix is a first prize winner of the 2012 George London Competition, and a 2013 Seattle Opera Wagner Competition finalist. She attended the University of Missouri - Kansas City Conservatory, as well as the University of Northern Iowa.
The partnership of the Dorothy Albrecht Gregory Visiting Conductor Fund, established by Dorothy Albrecht Gregory '61, and the Adeline Maltzan Crane Chorus Performance Tour Fund, established by Dr. Gary C. Jaquay '67, brings distinguished conductors to The Crane School of Music for festival performances by the Crane Chorus and Crane Symphony Orchestra, and travel funds for the Crane Chorus to perform at major venues outside of Potsdam.
The LoKo Arts Festival is made possible by the generosity and artistic vision of Kathryn Kofoed Lougheed '54 and Donald Lougheed (Hon. '54).
North Country Public Radio is the media sponsor for the 2018 LoKo Arts Festival at SUNY Potsdam.
For a full schedule and listing of events, visit www.potsdam.edu/loko.
You can also stay up-to-date with the festival's free mobile app, including the schedule, artist bios, updates and more. Just download the Guidebook app and search for "LoKo."
About The Crane School of Music:
Founded in 1886, SUNY Potsdam's Crane School of Music has a long legacy of excellence in music education and performance. Life at Crane includes an incredible array of more than 300 recitals, lectures and concerts presented by faculty, students and guests each year. The Crane School of Music is the State University of New York's only All-Steinway institution. For more information, please visit www.potsdam.edu/crane.
Media contact:
Alexandra Jacobs Wilke, Office of College Communications,
(315) 267-2918