SUNY Potsdam Dancers work with Clarkson University Physical Therapy Students During an Injury Prevention Workshop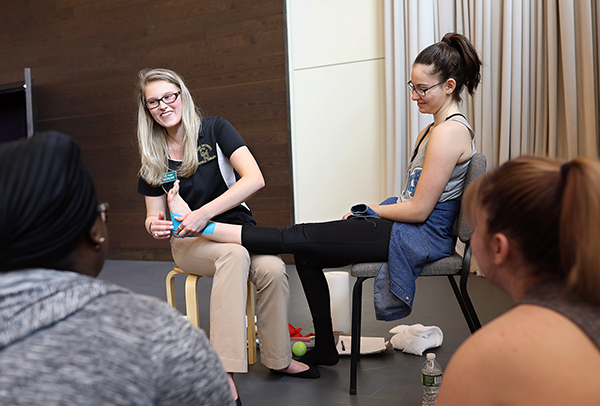 Like any professional athlete, dancers are at risk of developing unique injuries from physically demanding performances.
That's why Clarkson University Doctor of Physical Therapy (DPT) students have teamed up with SUNY Potsdam's Department of Theatre & Dance this semester to help dancers learn to prevent small injuries from becoming bigger problems.
The DPT students held a dance injury prevention workshop this month for dance students, and another workshop will be held in March for dancers attending the American College Dance Association regional conference at SUNY Potsdam's Performing Arts Center.
Clarkson Associate Professor of Physical Therapy Leslie Russek said the workshop is part of the PT students' community wellness course, in which students focus on developing wellness or injury prevention resources for a specific group. In this case, the DPT students created a workshop and educational materials designed to help participants learn to recognize injuries and know when to visit a doctor.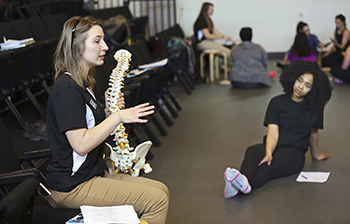 Don Borsh, chair of SUNY Potsdam's Department of Theatre and Dance, facilitated the collaboration by inviting the PT students to visit his dance classes on Wednesday, Feb. 24. The PT students were able to see the physical demands of SUNY Potsdam dancers and talk with them about what injuries and concerns were most pressing to them.
"The PT students learn a lot about a special population that has special needs; performing arts medicine is a growing specialty area," Russek said. "This team of students knows a lot about dancers and certain injuries they're more likely to have."
As part of the workshop, DPT students displayed anatomical models to demonstrate how different areas of the body move -- such as the hands, knees and spine. SUNY Potsdam Professor of Dance Robin Collen said being able to visualize the structure of the body helps dancers better understand how to stretch properly and avoid future injuries.
"They can learn how to take care of themselves to prevent injury and heal if they have been injured," she said. "Dancers will hopefully also have a better understanding of when and how physical therapy can help them."
Collen added that the opportunity for dancers to interact with DPT students might inspire some participants who want to become physical therapists themselves.
"I think there are a lot of dancers who like studying the body in motion, and physical therapy is an interest for them," she said. "To work with the Clarkson students could be a turning point in their career."