SUNY Potsdam to Break Ground on New Child Care Center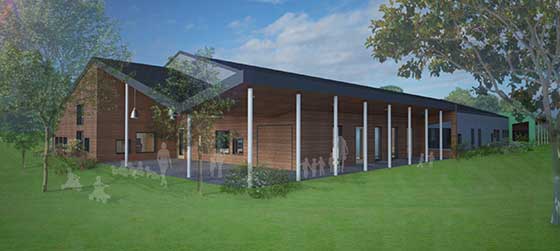 SUNY Potsdam will hold a groundbreaking ceremony to celebrate the construction of a new dedicated facility to house the College's Child Care Center on Tuesday, Aug. 15, at 10:30 a.m.
Families, children, local educational partners and elected officials will be on hand for the ceremony, including Assemblymember Addie A. E. Jenne, who secured $6 million in funding for the project. The groundbreaking ceremony is open to the public.
In its new location on Outer Main Street across from The Crane School of Music, the 13,000-square-foot SUNY Potsdam Child Care Center building will offer easy access for busy parents to drop off and pick up their children without driving through campus. The new facility will feature seven classrooms specially designed for every age group served by the center, each with dedicated children's bathrooms and special rooms as needed, such as sleeping spaces for infants, a changing area for toddlers, a project space for preschool-age children and a laundry area.
SUNY Potsdam Child Care Center Director Lori Moulton said that the new facility will have a slight increase in capacity as well.
There will be separate outdoor gross motor skills play areas for the different age groups, as well as two indoor play areas. One room is set aside for storing strollers and car seats, with easy outdoor access. The center will feature a commercial kitchen for preparing nutritious meals, and a food prep area for infants. There will be an inviting reception space and a waiting area for parents. Staff will benefit from office space and a break room. There will also be a library holding the center's collection of children's books, which will function as a board room and teacher planning and resource area.
The new SUNY Potsdam Child Care Center facility was designed by Architectural Resources PC, and the general contractor for the project is Bette & Cring LLC.
The SUNY Potsdam Child Care Center serves children of SUNY students, faculty and staff, as well as the community at large. Founded in 1990, the center is based on the philosophy that each child has unique, individual needs and developmental patterns. Experiences planned for the children promote the positive development of emotional, social, intellectual and physical/motor abilities. Curriculum planning focuses on each child's need to grow and enhances the development of a positive self-image.
Students in SUNY Potsdam's childhood, early childhood, literacy and community health programs are able to apply their learning through internships and classroom assignments with the Child Care Center, as are students from other disciplines and high school students in the St. Lawrence-Lewis BOCES program.
To learn more, visit http://www.potsdam.edu/faculty/spccc.
Founded in 1816, The State University of New York at Potsdam is one of America's first 50 colleges—and the oldest institution within SUNY. Now in its third century, SUNY Potsdam is distinguished by a legacy of pioneering programs and educational excellence. The College currently enrolls approximately 4,000 undergraduate and graduate students. Home to the world-renowned Crane School of Music, SUNY Potsdam is known for its challenging liberal arts and sciences core, distinction in teacher training and culture of creativity. To learn more, visit www.potsdam.edu.
Media contact:
Alexandra Jacobs Wilke, Office of College Communications,
(315) 267-2918