If you enjoy the study of the past, you've found a home in the history program at SUNY Potsdam.
Our eleven full-time department members teach a variety of courses ranging from the Ancient World to the present, and from Africa and Asia to Europe and the Americas. We're all inquisitive scholars whose passion for history enlivens our classrooms. Just ask any history major.
We hope you'll join us in starting your own lifelong quest for historical understanding.
Welcome!
Dr. Thomas N. Baker, History Department Chair
Where Are They Now?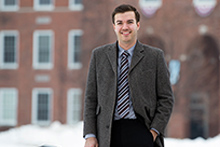 Philip Paige '15
Like many alumni before him, SUNY Potsdam was a launch pad to success for Philip Paige, a 2015 SUNY Potsdam graduate from The School of Arts and Sciences....
read more
.