It's never too late to go back to school. Just ask Tabitha Brown '20, who is back in college after a 25-year hiatus. After raising a family and homeschooling her children, she decided it was time to complete her bachelor's degree—starting the same year her daughter went off to college. Brown is now excelling as a non-traditional student in SUNY Potsdam's Department of History, where she has been delving into local history projects to explore Northern New York's past.
"I really feel like I've found a very supportive place. I'm so thankful that I came here to SUNY Potsdam," Brown said. "Part of the reason that I'm here is that when my daughter was applying to colleges she said, 'Mom, you should try, you should go back.' It would be an auspicious time because we could both talk about what we're doing and be energized by the other."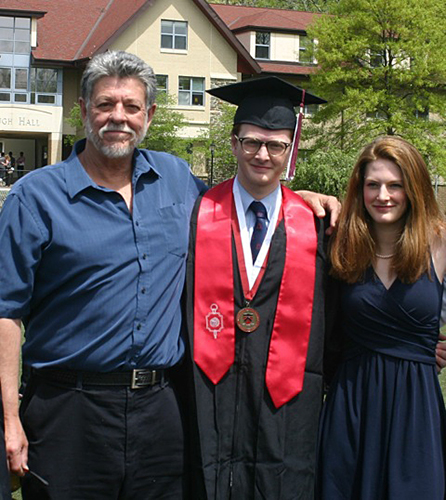 Brown withdrew from SUNY New Paltz in 1994 after getting Lyme disease while hiking in the Hudson Valley. She put her goal of becoming a teacher on hold, although not for long it turns out. She started a family with her husband Wayne, and decided to homeschool her children, Olivia Ree and Wayne Jr., spending long hours selecting and preparing their curriculum and working one-on-one with her children. "It was the most challenging thing that I've ever done, but also the most rewarding and worthy," Brown said.
The hard work paid off. Her son graduated summa cum laude from Eastern University's Templeton Honors College with a BA in history, and her daughter is a sophomore in the honors program at Clarkson University, where she is majoring in biology.  "The children have really influenced me with their perseverance and their focus," Brown said.
Fast forward to 2018. Brown is back in a classroom for the first time since the '90s. Initially, she planned on finishing her degree in education, but then she shifted her focus, instead pursuing a degree in history. "Where I felt like learning before was getting all of these dates and spitting them back out, now it's more thinking critically about things and being able to read critically. I feel like it's helping me grow as a person," she said. "Every professor that I have had has been so supportive."
Brown spent last semester working at the DeKalb Historical Association, as part of a hands-on project for Dr. M.J. Heisey's "Practicing Public History" class, in which she helped to launch an exhibit on old country schools. During her weekly visits, she worked with Bryan Thompson, the historian for the Town of De Kalb, to gather content for displays, mount photographs and create new labels for the images.
She also interviewed a 94-year-old man who attended one of the small country schools in his youth. "That was really a lot of fun! He was very lively and made those experiences vivid for me. Having seen photographs of all of these different schools, it was a nice way to then have a feeling of what actually went on inside them," she said.
Brown said that her history professors have been instrumental in her growth as a non-traditional student. She has taken three classes with Associate Professor Dr. Sheila McIntyre, including a unique course on the history of witchcraft in early America. "When I finished that class, I felt like I was missing all the people that I had come to love in Salem. Dr. McIntyre picks her readings really thoughtfully and they're all important," she said.
The same is true for her other history classes, with Dr. Shiho Imai, Dr. Axel Fair-Schulz and Dr. Heisey. "They all drove home the importance of reading and thinking critically. Being able to defend what you put on paper, and how you came to that conclusion is very important," she said.
Last semester she also worked with Dr. Tom Baker on a unique transcription project looking at love letters from the 1870s—allowing students to read original source material and transcribe them into a digital format. The courtship letters, written by Henry Clark to Lucelia Arvilla Mills, span two years leading up to their wedding in 1873 and provided a window into the past for Brown.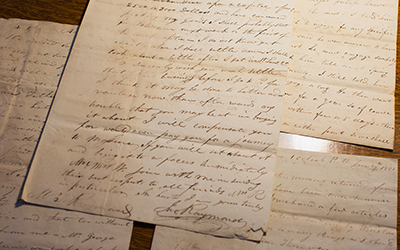 The letters also painted a picture of everyday life in the early 1870s. Henry's references to specific events and people led to further research. Brown did further research on the Welsh community living in Northern New York, the Grand Trunk railroad, and a Welsh boy who was killed in a train accident. Her work with Baker will continue next semester as she jumps into an annotation project for transcribed letters, similar to the side project about the Welsh community. "I'm looking forward to it! I'll be pursuing things that could be described better or fleshed out more," she said.
In addition to her focus on local history, Brown is currently taking a class on the history of the Soviet Union. She has been recording her lectures and listening to them during her 45-minute commute from her home in Heuvelton. "We are learning about Stalin. I find myself looking up articles about his daughter, Svetlana. What would life be like as Stalin's daughter? Learning about history is so interesting! Each class I have taken leaves me wanting to learn more about the people, their families, their lifestyle and their culture," she said.
When Brown first started thinking about going back to school, it was contingent upon securing good financial aid. She was able to line up several scholarships, including the Elizabeth Rhody '57 Scholarship (awarded to an outstanding, full-time, non-traditional student) and the Struthers Scholarship (awarded to a non-traditional student who may be balancing family and work while attending college). "I'm really thankful to SUNY Potsdam for the scholarship support to make this possible. It's amazing! I never thought I would be able to come back to school financially. It's really opened doors," Brown said.
She recently attended the Legacy Luncheon where she got to meet Elizabeth Rhody in person. "She was just the kindest person! She's a self-made woman who worked in education and then for a publishing company. She was very sweet, warm and open," Brown said. "I am so thankful that people out there are willing to invest in other people's futures—because it's changing trajectories of people's lives," she said.
Despite a busy semester, Brown still finds time to take weekly horse-riding lessons. "Spending time with animals, such as Corky (the horse) and my dogs, is a huge help in alleviating stress, and gets me temporarily away from books and my laptop," Brown said.
After she graduates in May, Brown is thinking about pursuing a master's degree in education at SUNY Potsdam or finding a job that requires a bachelor's degree. "This is just sort of an impossible dream. I didn't have the faith that I would be able to get from point A to point B, but each professor has given me the tools, and set me up to handle to next step. It's been a very challenging period of growth that I never expected to happen in my 40s," she said. "Being able to have a degree is going to be helpful in stepping out and finding a job."
To learn more about the Department of History, visit: https://www.potsdam.edu/academics/AAS/depts/history.
To learn more about the impact of giving at SUNY Potsdam, visit: https://www.potsdam.edu/giving/donorimpact.
Article by Jason Hunter