Department of Sociology & Criminal Justice
Sociology is the study of human society, social behavior and social change.
The SUNY Potsdam sociology program provides students with skills in analysis, critical thinking and communication, enabling students to pursue a wide variety of careers or continue learning on the graduate level.

Throughout their course work sociology students analyze social institutions; study social problems such as domestic violence, social inequality, crime and poverty, and the environment; and examine the role that race, gender and social status play in our daily lives. The Department offers both a major and minor in Sociology.
Criminal Justice Studies is the study of the criminal justice system: the perpetrators, agencies and actors involved in the processing and definition of crime, and the social, political and economic phenomena impacting each.
The SUNY Potsdam Criminal Justice Studies program provides a broad interdisciplinary, liberal arts orientation with course requirements in Philosophy, Politics and Sociology and the opportunity for students to elect to study course in Anthropology, Chemistry and Psychology. The Department offers both a major and minor in Criminal Justice.
The Department of Sociology & Criminal Justice also offers a minor in Human Services and plays an important role in the Women's and Gender Studies and Environmental Studies programs.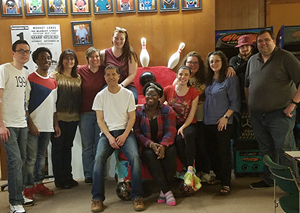 "Sociology has had a profound impact on the way I see things now.  I try very hard to see things from many perspectives and look at important problems that are currently going on.  I have connected with one issue most strongly, equality surrounding food.  There is a niche for every person and through both my courses at SUNY Potsdam and my internship with GardenShare I have come to realize that I found mine.  While the classes that I took helped me focus my concerns and thoughts in a more specific direction, they also made me think there were many solution-less problems that existed.  I do know that there are many problems, but GardenShare and its supporters have helped me see that there are so many people who are tirelessly trying to change the food system for the better."
~ Samantha Michaels