Influenced by the love and devotion of his mother and grandmother, Jason Sanchez '23 has not only harnessed their moral code and sense of volunteerism, but he has charted a similar career path in his quest to work in law enforcement and emergency medicine.
"My grandmother is a retired federal Customs and Border Protection (CBP) officer. She worked at JFK (John F. Kennedy International Airport) since before 9/11, and I'm planning on following in her footsteps because she was an inspiration to me," Sanchez said. "She migrated from Guatemala, only speaking Spanish, and she became an immigration officer before homeland security even existed. She's also a Polio survivor and she flourished for 30 years as an officer."
In his youth, Sanchez had an insider's view of CBP operations at one of the busiest ports of entry in the country. Trips to see his grandmother, Blanca Rabanales, at JFK allowed him to interact with the K-9 officers, and learn about the process of inspecting produce and other goods entering the U.S. He still thinks back fondly on his first trip to JFK when he was just eight years old. "She took me on the AirTrain to show me around the airport. It was hands down the coolest thing as a little kid," he said.
Years later, as he was finishing his senior year of high school, he was looking for the right college to pursue a similar path in law enforcement and border protection. He discovered a small liberal arts college in Northern New York. "I learned that SUNY Potsdam has a Law Enforcement Training Institute, so I got in contact with the former Law Enforcement Tactics Club president, and I was like, 'Wow, SUNY Potsdam has a lot of interesting things happening.' The Law Enforcement Training Institute was a great opportunity, and here I am," Sanchez said.
Now in his junior year, he is pursuing a degree in criminal justice with a minor in public policy and homeland security.  Working closely with Dr. David Bugg, the chair of the Department of Sociology and Criminal Justice, he has found a welcoming and supportive environment to help him achieve his goals. "He's my advisor and a great professor who has, and who will continue to have, the biggest impact on me. He's always here to help. You can talk with him about anything," he said.
On Attending SUNY Potsdam:

"I got away from the city and explored a place that I didn't even know existed. The farthest upstate I had ever been to was Yonkers. It's a great experience because the cultures are different, and you find out so many things about new people and their lifestyles. It's amazing!"

-Jason Sanchez'23
Outside of the classroom, Sanchez has been giving back to the community as an Emergency Medical Technician (EMT) for the Potsdam Volunteer Rescue Squad. Called out to more than 70 emergencies since he started in the fall of 2021, he spends two 16-hour shifts per month at the station, and at a moment's notice rushes out to unknown medical emergencies—everything from transporting patients to the hospital, to dealing with serious traumas at the scene of a car accident. During a recent call, he tried to resuscitate a non-responsive patient using his CPR training. "You go through stuff other people will never go through their entire lives. I can say that I know what it feels like to break someone's ribs, and that is hard. You have to keep going, you need to do everything you can to bring this person back," he said.
Much like his decision to pursue a career in homeland security because of his grandmother, his mother, Bernadette Coyoy, was the catalyst for him to get into emergency medicine. "Before she was a teacher, she became an EMT. I can continue two legacies at once, and continue what I want to do passionately," Sanchez said.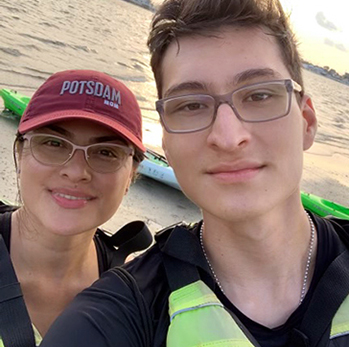 Throughout his entire life, his mother has been his rock. Despite balancing a full-time work schedule and graduate school, she always made him a priority. "I had a lot of issues growing up, but my mom was always there, always supportive, always made sure I was fed, always took me to my basketball games, and I always had clean clothes," he recalled.
Despite the financial challenges she faced while raising a child on her own, she continued to give back to others, passing along a sense of altruism and compassion that Sanchez embraces to this day. When he was four years old, they started volunteering at the Missionaries of Charity in Brooklyn—helping to prepare meals at soup kitchens and homeless shelters around the city. And then in high school his volunteerism turned to St. Helen's Church when he planted 100 trees outside the Catholic church in his hometown of Howards Beach, Queens.
Now at Potsdam, he is continuing his lifelong dedication to helping others in his role as an EMT for Potsdam Rescue. He also volunteers his time as the president of the Law Enforcement and Tactics Club at SUNY Potsdam, recently helping to oversee an American Red Cross CPR training course for students in the club. "This is my calling, to give back to help others. It's a great feeling," he said.
As he wraps up his undergraduate degree, Sanchez has his sights set on a career in Customs and Border Protection, or potentially landing a job as a paramedic. Whatever path he takes, he will carry with him a strong educational foundation from SUNY Potsdam, while embracing the ideals instilled in him from an early age by his mother and grandmother.
Article and photos by Jason Hunter