Student Research
Camille Holmes '19 comes from a long line of strong women. Her grandmother was a pioneer, blazing the way for other women in the field of science. Now she's leading the way herself by conducting Presidential Scholars Research on Red Breasted Quail in Stowell Hall, while also maintaining a 4.0 GPA... read more.
Biology at SUNY Potsdam is founded on the principle of providing a quality undergraduate education for students with diverse interests.
A broad general background in biology, as part of a liberal arts education, allows students to pursue a variety of careers or continue learning at the graduate level.The Department of Biology offers both Bachelor of Arts (B.A.) and Bachelor of Science (B.S.) degrees.
Undergraduate Research
The Department of Biology is always providing new course offerings and research projects. Faculty members' interests include a wide range of subjects in the fields of ecology and evolutionary biology, cell and molecular biology, and anatomy and physiology? all of which are reflected in the program.
Thinking PreMed?
So are a lot of our students. We have tailored the Bachelor of Science in Biology to be one of the best preps for medical school. Just ask your advisor to work with you on getting the right combination of classes to give you the breadth you need to succeed on your MCATs and in a competitive graduate school.
Where Are They Now?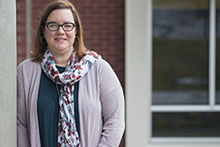 Alumna Jennifer Mathews
After graduating from SUNY Potsdam more than 20 years ago, alumna Dr. Jennifer Mathews '95 is back in a SUNY Potsdam classroom, this time as a guest lecturer....
read more
.