Traveling up and down the east coast, and through the Gulf of Mexico, Brogin Van Skoik '11 puts his extensive biology training to the test. Working as an endangered species observer on a large dredging vessel, the SUNY Potsdam alumnus carefully monitors the human impact on a precious assortment of turtles, fish, and whales—halting dredging operations at a moment's notice if too many species are harmed by the shipping operations.
"I always wanted to be on a ship, try to make a difference, educate people about endangered species, and be on the front lines."
In the summer of 2021, Skoik started working for Coastwise Consulting, a subcontractor for the U.S. Army Corps of Engineers, which oversees the safety of endangered species during dredging operations along the coast. As companies like Great Lakes Dredging complete beach renourishment projects, or clear sand and debris from shipping channels in areas like the Chesapeake Bay, Skoik and other trained biologists are hired to monitor the impact on endangered species in the area.
"Great Lakes Dredging has a fleet of ships that are constantly moving around in the southeast and the gulf. It was a really cool experience. In order for them to dredge, they need an observer. You could be flown out to Galveston, and within a day, hop on a ship. It's kind of an adrenaline rush at first. They were looking to me to make sure I had all the documents and the permits, and everything was ready to go, and then they could start the project," he said.
As they got underway, large arms extended on either side of the ship to remove tons of sand from the ocean floor, up into a large hopper on the deck of the ship. Working 12-hour night shifts, Skoik closely monitored their operations for endangered species that might have invertedly been sucked into the vacuums. From Atlantic sturgeon and short nose sturgeon to lager head, kemp's ridley and leatherback sea turtles, he kept his eyes peeled for the protected animals, and if too many were killed, what they call 'takes,' everything stops based on Skoik's reporting.
"They have guards on the dredge heads, turtle exclusion devices, and there are other screens for unexploded ordinances like cannonballs or old bombs, but anything that gets sucked up is not going to survive. It could be three or four 'takes,' and that's all they get within a certain amount of time. Once they hit that number, all dredging must stop, and that's all dictated by the Army Corps of Engineers' biologists, and their recommendations for that specific area," he said.
Mitigating harm to the sea life is always his primary concern, but if an endangered turtle is harmed or killed, Skoik would immediately call the Army Corps of Engineers, fill out the necessary paperwork, take samples, and they would advise him on the next steps. The delicate balance between nature and human activity is on full display on the dredging ships. Although providing important coastal manicuring for eroding beaches and shipping routes that are filling with sand and mud, the impact on endangered species is kept in check through the watchful eyes of Skoik and the other biologists hired to live on the ships for weeks or months at a time. During one of his deployments, he remembers reporting the sighting of a North Atlantic Right Whale—an extremely endangered animal that is facing possible extinction, with only 300 to 400 remaining on earth.
"That was a big part of our job during their migration season when the whales come down along the coast of South Carolina and Georgia. When they're dredging the shipping channel, we're out there watching to make sure if we do see something, we can notify all the ships to slow down to 10 knots, and everyone is aware of it," he said. "That did happen when I was out there, and the whale had a calf too. We made sure she was able to make her way safely to the wintering grounds. That's one of the coolest things that I have been involved with."
In July 2022, Skoik came ashore, and was hired as a fulltime faculty member at Morris College in Sumter, S.C. He now leads a classroom of students learning about biology for the first time, in the same way he was introduced to the field at SUNY Potsdam. "It fit well for me, because that's how SUNY Potsdam was—their philosophy is very similar," he said.
His path to becoming a professor started 15 years earlier as a student at SUNY Potsdam. The Syracuse native was looking for a college where he could play lacrosse, but beyond that he didn't really have an idea about which academic path to pursue.
"I really liked SUNY Potsdam. There was something about the Adirondacks and being on the campus that I just really liked. I didn't know what I wanted to major in, but I knew that I wanted to go there, just based on showing up in Potsdam and seeing what it was all about."
During his sophomore year, Skoik took his first biology class, taught by Dr. Walter Conley. "It was such a cool class. I loved the way he taught it. I was like, 'Alright, I think I might want to do this, but I need to do a little bit more investigation,'" he said. That's when he met Dr. Glenn Johnson, and he signed up for a travel course in South Florida to examine biotic communities. The two-week class introduced Skoik to hands-on learning in ecosystems ranging from mangroves and coastal climates to subtropical hardwood forests and freshwater wetlands.
"We went all the way down through the Florida Keys to Fort De Soto, and we went snorkeling. I met some amazing people, and we had a great time. The class was open to anyone, you didn't need to be a biology major, so I asked Glenn, 'How can I do this for a job?' He was like, 'Well, sign here and you will be a biology major.' Everything started to fall into place, and I was learning everything that I could about biology, and Glenn was one of the main professors who helped me with that," he said.
Over the next couple of years, he continued to collaborate with Dr. Johnson on several research initiatives, such as the New York State Department of Environment Conservation's HERP Atlas Project. On weekends, Skoik and his classmates would pack up their surveying materials, and take a canoe out to the local wetlands or rivers to look for turtles.
"Some of those areas were the most beautiful places I had ever seen. It was an awesome time. You're in Potsdam, it's September, the sun is shining but it's getting chilly, and the leaves are falling. There's nothing better than getting in a canoe and just riding down the Raquette River."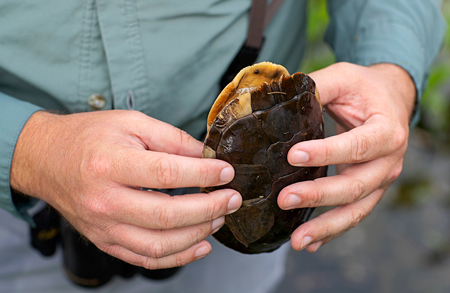 "We were looking for turtles that were tagged, and if they weren't, we would tag them. I realized that this was what I want to do for the rest of my life. Potsdam really cemented that, and there was no going back. I was going to keep doing this as long as I could," he said.
After getting his degree from SUNY Potsdam, he moved to South Carolina and was hired as a naturalist for Kiawah Island Nature Preserve, a small barrier island just south of Charleston. He loved the work, but he wanted to keep progressing in his career, with the goal of becoming a professor like Johnson. He returned to SUNY Potsdam for a conversation with his favorite professor. "I said 'Glenn, I don't know what to do to get to the next level.' And he told me, 'Keep reading and keep writing. This is a good opportunity for you as a naturalist to just keep learning. There are so many birds, there are so many plants, just turn it into a classroom,'" he recalled.
Skoik took his words to heart, and he returned to the nature preserve to resume his work. He continued managing 23,000 acres of land where he controlled invasive species, oversaw prescribed burns, and regulated hunting and fishing on the island—all while learning as much as he could in his outdoor classroom. "That was one of the best jobs I ever had. I was outside and I was kayaking, kind of like I was doing in Potsdam on the weekends. I had that same feeling when I was riding down the river teaching people about Diamondback terrapins in the marsh," he said.
After five years, he was ready for the next step, and enrolled in a master's degree program in biology at Citadel College, which led to an adjunct professor position at the college after he got his degree. At the same time, he started working as a wildlife biologist for the Black River Cypress Preserve—soon to be South Carolina's next state park—where he conducted research on birds, and cataloged the different species living there. "Each job that I've had is tied to Potsdam. I put everything together and learned how to do a whole research project. It was an amazing opportunity for me because I was the first person to do research on birds there," he said.
Fast forward to the summer of 2022 and Skoik is now starting his career as a biology professor at Morris College—embracing the opportunity to inspire his students, in the same way his passion was fueled at SUNY Potsdam. "This was my goal, to be a biology professor, working with students, and teaching them what my professors at Potsdam taught me," he said. "I always look back to Potsdam as the time that I figured out what I wanted to do. I figured out how to learn, and the professors gave me the tools to do that. SUNY Potsdam shaped my life. It's a special place."
Article and Photos by Jason Hunter