Taking flight like the endangered birds she studies, Dr. Bridget Amulike launched an inspiring career as a conservation biologist, educator, and researcher—traveling back and forth between the U.S. and Tanzania to explore the relationship between humans and grey crowned cranes.
Amulike is now in the middle of a prestigious two-year SUNY PRODiG Fellowship at SUNY Potsdam (Promoting Recruitment, Opportunity, Diversity, Inclusion and Growth), which was established to improve the diversity of professors in STEM fields throughout the SUNY system. Since she started at the College in 2021, she has been offering students a truly unique perspective on wildlife conservation, using examples from her own research on endangered species in Africa.
"I am enjoying teaching here at SUNY Potsdam. I like the smaller class sizes, enabling me to interact closely with my students and provide them with the necessary help. These close interactions help expand their knowledge and skills and also broaden my perspective, and enhance my pedagogical techniques as I learn from their experiences and ideas," Amulike said.
Born and raised in Tanzania, Amulike first arrived in the U.S. in 2009 to pursue a master's degree in wildlife biology, before discovering a unique internship at the International Crane Foundation in Wisconsin, the latter of which proved to be one of the most pivotal decisions of her life. "When I went to work there, I was shocked to discover that these cranes were threatened, the same species I saw every time I went to the national parks in my youth. From that point on, I decided to do something about it," she said.
Photo by Roi Dimor on Unsplash
Photo by Frank Winkler from Pixabay
Devoted to the protection of cranes, the organization opened her eyes to the dwindling population numbers of grey crowned cranes—an elegant-looking, long-legged bird with a golden crown of porcupine-like plumes. Throughout her internship, she developed a program to raise awareness about the endangered species, laying the groundwork for extensive research over the coming years. "One of the reasons many species become endangered is because we don't have enough information about how they're doing, which makes it hard to protect them. Once we start understanding what is threatening their survival, we can start thinking about mechanisms to protect them," she said.
As she entered a Ph.D. program at the University of Massachusetts at  Amherst, she secured a grant through the Disney Conservation Fund, which allowed her to return to Tanzania for a two-year research project on the cranes. "I was interested in modeling crane distribution throughout Tanzania, and studying their population in the Ngorongoro Conservation Area. Cranes are endangered because they are in high demand and still being used as pets in Europe, so that has contributed to their population decline, as well as habitat loss," she said.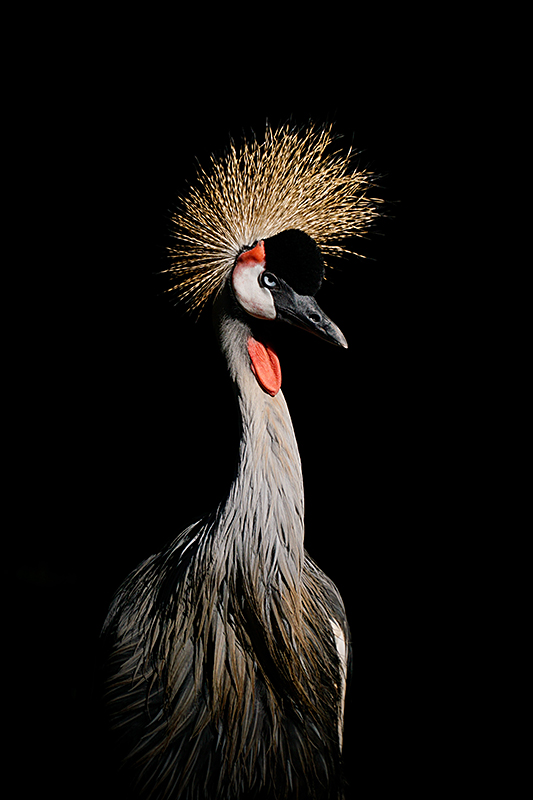 To calculate their population numbers, she used distance sampling methods to estimate the abundance and density of the birds in the Ngorongoro Crater,  driving along a series of transect lines (pre-established paths), while counting the cranes and measuring perpendicular distances from her location to a cluster of cranes or individuals. Her research also focused on illegal trade, habitat loss, and human interference as key factors for the species' decline.  "You can find them in human-dominated landscapes. In some areas, it's been documented that cranes eat crops, and so people persecute them, so, I was looking into human crane conflicts and the illegal trade as well," she said.
Through a series of interviews in four regions of Tanzania, she studied human sentiment toward the birds, and whether the grey crowned cranes were viewed favorably throughout the country. "In the future, there's going to be potential for re-introducing the species into the wild, and one of the things we want to look at is how people perceive the species. If cranes are pests to crops, do people want to support a reintroduction program? But my research proved that people are very welcoming. Ninety-six percent of the people said that cranes are not really pests to crops, and they said they would support crane conservation programs as well," she said.
Amulike's passion for nature, and exploring the wild spaces around Tanzania, took hold at an early age in Dar-es-salaam, Tanzania. "My interest in wildlife started when I was young and then I became much more interested when I began watching wildlife documentaries. I remember we used to have blue monkeys all over," she said.
Throughout primary school, she visited national parks, spoke with park rangers, and learned more and more about the vibrant wildlife throughout Tanzania. She also mastered  English as a business language in addition to her mother tongue, Swahili, Bemba and Nyakyusa—before enrolling at the College of African Wildlife Management -Mweka,  for her undergraduate degree. It was there that she first experienced the excitement of conducting research in the field as she studied lesser flamingos in the Soda Lakes region of East Africa.
Fast forward to 2022 and Amulike is back in the U.S., completing her two-year PRODiG fellowship at SUNY Potsdam. This semester she's teaching a Ways 101 class focused on international conservation of wildlife, and an ecology lab, where she brings students out into the field to explore Northern New York. "I have such a wonderful mentor in Dr. Glenn Johnson. I'm learning a lot from him, the people I interact with in the Department of Biology, and other people from departments across campus," she said. "My experience conducting research with students in Tanzania was rewarding, and I look forward to engaging our SUNY Potsdam students in any future wildlife field research."
As she looks ahead to the future, Amulike plans to remain in higher education as a professor of conservation and wildlife biology, while focusing heavily on field research on endangered species. She also plans to return to the Ngorongoro Conservation Area to study the seasonal movement patterns of grey crowned cranes. "I'm very much interested in species that have received very little attention in conservation, that people consider not attractive or appealing," she said. "That's the next step for me, to apply for more funding, so I can go back and do a seasonal movement study, to understand where the Cranes go during the dry and rainy seasons."
Article and portraits by Jason Hunter