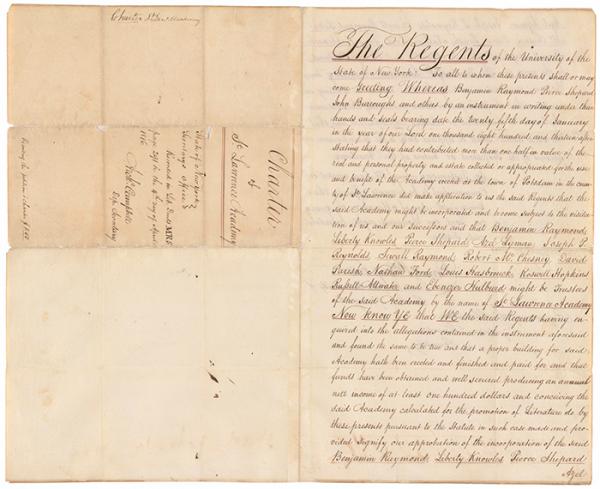 On March 25, 1816, an otherwise unremarkable Monday, the charter founding St. Lawrence Academy was signed by the Board of Regents in Albany, and work could commence.
The trustees of the new institution had plenty of tasks ahead—first and foremost, hiring an instructor, as well as setting a curriculum, establishing tuition and finding room and board for students.
This undertaking represented a strain on an already stressed community. 1816 is known to history as "the year without a summer." One of the largest volcanic explosions ever recorded had taken place a year earlier, at Mount Tambora in the Dutch East Indies (part of Indonesia today).
The remaining soot suspended in the atmosphere, combined with the lingering phenomenon known as the Little Ice Age, created unseasonably cool conditions across much of North America and Europe. Snowfall was recorded across the region during the summer months.
"From the Northern and Western parts of New York we have received accounts of summer snows, and winter lingering in the lap of June, and the most gloomy apprehensions of distressing scarcity are entertaining by those who witnessed the phenomena," the Brattleboro (Vt.) Reporter newspaper reported.
With a stunted growing season, many Potsdam tenants lost their land, as crops failed and they were unable to make payments or support families on their farms, according to Potsdam Public Museum Director Mimi Van Deusen.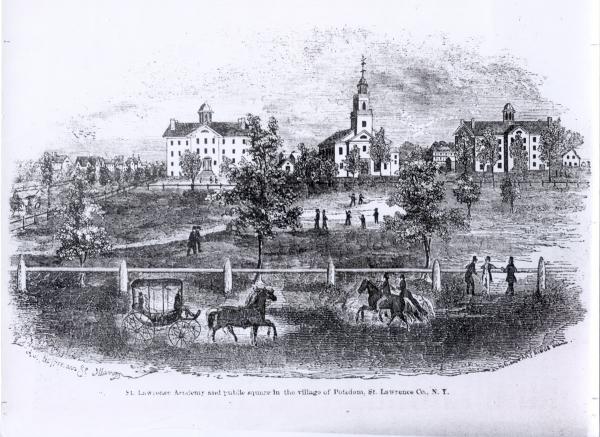 Coupled with a nationwide recession, the conditions made for a meager first year for the new St. Lawrence Academy, which opened its doors to students for the first time on September 30, 1816.
"This now time-honored and warmly-cherished institution embarked upon her noble mission on a bright September morn in 1816, with no flourish of trumpets, in an unpretentious, one story, one room, five hundred dollar wooden building. One solitary teacher was there as faculty and guiding star of that newborn enterprise," wrote George Sweet in First Quarto-Centennial History, Normal School, Potsdam, N.Y.