Undergraduate Admission
Freshman Applicants
Potsdam accepts the SUNY Application or the Common Application. Freshman applicants must complete Option 1 or Option 2 for admissions consideration. Please only complete one of the two applications.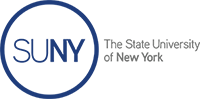 Option 1: SUNY Application
Submit the following:
The SUNY Application (https://www.suny.edu/applysuny/). The fee is $50.
Official high school transcript(s).
SUNY Supplemental Application.
One letter of recommendation (or form allowing for individual comments) from a school based counselor or teacher.
Option 2: Common Application
Please note: The Common Application closes on July 1st. Your application must be completed in its entirety by June 30th or you will need to reapply using the SUNY Application.

Submit the following:
Crane School of Music
Admission to The Crane School consists of two parts: 1) acceptance by Crane following successful completion of the Crane audition process; and 2) academic admission by the College. Read more about the audition process.

Transfer
Please visit Application Process for Transfer Students.

International
Please visit the Requirements for International Students website.
Graduate Students
If you would like to apply to the MST, MSEd, MM, MA, MS or Advanced Certificate programs, please visit: Graduate School Application.