The Financial Aid Office is committed to helping you identify the financial resources for which you may be eligible. Our staff will assist you and your family in developing financial plans to pay for an extraordinary future investment - your college education. Our financial aid office is part of the One Stop.
Need help? 
Contact One Stop via email or by phone at (315) 267-2943. Virtual "walk-in" support is also available. Learn More
Paying for Potsdam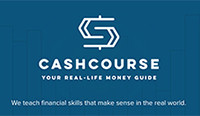 CashCourse
Learn More about CashCourse, your guide to making informed financial choices. You can register for a free account to access financial tools and start taking charge of your money.
Stay Connected: Federal Student Aid on Facebook
The official Facebook page of the U.S. Department of Education's office of Federal Student Aid. For more information, go online.
Is it your first time applying for financial aid?
Check out the Federal Student Aid video about the FAFSA Form and FSA ID Tips for Parents.
What's New
The 2024-2025 FAFSA will be available in December 2023, NOT October 1st. Stay tuned for the December launch date of the 2024-2025 FAFSA form. Get ready for a revamped FAFSA experience and a smoother application process. To learn more about updates to the FAFSA form, go online.

The 23-24 application for Aid for Part-time Study (APTS) (PDF) is available. Please review your eligibility here. In addition to submitting your application, submit a copy of your family's and/or your 2021 NEW YORK State Income Tax Return (not the Federal return). The application and NYS Income Tax Return can be submitted to our secure file drop. Deadlines: Fall/Full-year, September 22, 2023; Spring, February 16, 2024.

Reminder: It's time to file your FAFSA for the 2023-2024 Academic Year.
 
Parent Loan: Are you a parent applying for a 2023-2024 Federal Direct Parent Loan? The Parent Loan is expected to open on April 1, 2023.
 
Selected for Federal Verification? For more information, click here.
 

Students who have never received Excelsior and wish to apply should sign up for alerts from HESC to be notified when the application for 23-24 will open. The application typically opens in May and closes in August. Returning Excelsior students do not need to fill out this application and will instead complete their FAFSA and TAP applications for 23-24. View this website for more information and the application. 

Returning Excelsior students who would like the semester they had a break in attendance or reduced course load to be reviewed for continued eligibility should submit this form with the required documentation.
 
The White House recently announced a program to help make high speed internet more affordable to households, including those with Pell Grant recipients. The Affordable Connectivity Program (ACP), which was authorized in the Bipartisan Infrastructure Law, provides households a $30 monthly discount on internet services, as well as a one-time $100 discount towards a computer.
Quick Links
To complete your FAFSA (Free Application for Federal Student Aid).
Federal Title IV School Code: 002850
To complete your TAP application (New York State Tuition Assistance Program).
Select SUNY Potsdam (SUC Potsdam)
Need to complete loan requirements (Promissory Note, Exit or Entrance Counseling)?
Need to complete a form (Status Change, Budget Adjustment and more)?
Expecting a refund?
Refunds are processed by the Student Accounts Office on the 4th floor of Raymond Hall.
Financial Aid not showing up on your bill?
Check here before you pick up the phone.