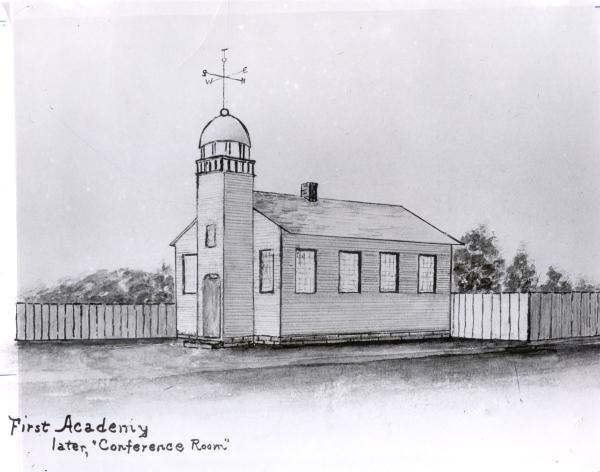 In 1811, Benjamin Raymond paid for the construction of a small one-room building, which would serve as a church, schoolhouse and meetinghouse. Later on, it would also be home to the first years of the Academy.
One of the Academy's first preceptors, George Sweet, described the little structure it began in as "unpretentious" a "one story, one room, five hundred dollar wooden building," with a little bell in a cupola above the front door.
The Academy's founding came in an era of constant change and success was far from guaranteed. Even as the boundaries of a new nation were edging further north, the prospect of war with Great Britain hovered on the horizon once again.
On December 1, 1812, the residents of Potsdam sent a formal petition to the New York State Board of Regents to establish St. Lawrence Academy. Just a fortnight earlier, British cannons had fired on nearby Ogdensburg, in a prelude to a major battle that would take place two months later.
"The times were challenging and anything but auspicious," W. Charles Lahey wrote, in The Potsdam Tradition: A History and a Challenge. "Potsdam was a frontier region and the movement for incorporation coincided with the War of 1812."
Despite the uncertain times, residents were determined to raise both funds and support for their academy. A subscription drive continued through the war, raising "a liberal sum" by 1814, with 312 shares of $100 each invested in the enterprise. In addition, the town set aside "literature lots," which could be leased for a fee, with the proceeds intended for the benefit of the new college.
In the haze of war, the petition to found St. Lawrence Academy fell down the list of priorities in Albany. Finally, in 1816, residents successfully lobbied officials to revisit the proposal.