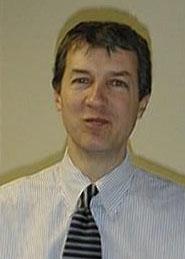 Gunnar J. Anderson
Associate Professor, Emeritus
---
I have a PhD from the University of Chicago, a MA from Northwestern University and my BA from Lawrence University. I also studied medieval Arabic at the Center for Arabic Studies Abroad at the American University in Cairo.
I have been a faculty member at SUNY Potsdam since 2000, previously teaching at University of Hawaii at Manoa, Wake Forest University, Gustavus Adolphus College and University of Michigan at Ann Arbor.

My research focus has been Medieval and Early Renaissance Spanish Literature. I have an interest in Medieval Arabic literature produced in Spain, such as the kharjas, muwashahaat, as well as literary tales.

I have taught Spanish 101-103, Intermediate Spanish, as well as advanced level courses and seminars. Additionally I have taught various courses in Arabic, with an emphasis on Egyptian dialect in some classes. I occasionally offer Italian Language courses.

Publications:

Colloquial Spanish in Context: Beyond Subjunctive Barriers Lanham, Maryland: University Press of America, Oct., 2003


Clarián de Landanís: An early Spanish Book of Chivalry (529 + xxvii pages)
Newark, Delaware: Juan de la Cuesta Hispanic Monographs, Dec. 1995


Spanish Subjunctive in Context
Lanham, Maryland: University Press of America, 1995
Gunnar Anderson, principal author; with Patricia Vilches Bustamante


La corónica de Adramón: A critical edition and study (2 vols., 653 + lviii pages)
Newark, Delaware: Juan de la Cuesta Hispanic Monographs, 1992