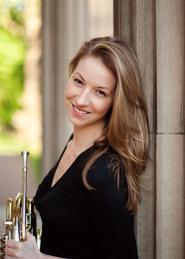 ---
Lauren Becker is Assistant Professor of Horn at the Crane School of Music at the State University of New York at Potsdam. Active as a freelance musician, she has performed with ensembles throughout the United States and beyond, including the Rochester Philharmonic Orchestra, Detroit Symphony Orchestra, Buffalo Philharmonic Orchestra, Albany Symphony Orchestra, Symphoria, Kuala Lumpur International Festival Orchestra, and North Country Chamber Players.

As a member of the American Wild Ensemble, Dr. Becker has performed world premieres of newly commissioned works in concert halls, fields, mountain tops, and caves across the United States. The ensemble has toured extensively, performing at schools and universities, the Smithsonian American Art Museum, George Eastman Museum, Avaloch Farm Music Institute, and indoors and outdoors at San Juan Island and Saint-Gaudens National Historical Parks and Olympic, Mount Rainier, North Cascades, Shenandoah, Great Smoky Mountains, Mammoth Cave, and Hawai'i Volcanoes National Parks. The American Wild Ensemble's album, Music in the American Wild, was released in 2018 and can be found online at Bandcamp. She has appeared on many other recordings, including the Eastman Wind Ensemble's collaboration with the Canadian Brass entitled Manhattan Music (Opening Day Entertainment Group) and the Buffalo Philharmonic's recording of selected works of Bartók (Naxos Records).

Dr. Becker frequently performs as member of the Potsdam Brass Quintet and has presented at many conferences, including the International Brass Festival at the University of Florida School of Music at Gainesville, the Northeast Regional Tuba and Euphonium Conference, the Erie County Music Educators Association Western New York Conference Day, NAfME Eastern Division Conference, and NYSSMA Winter Conference. Prior to her appointment at Crane in 2015, Dr. Becker taught horn at Nazareth College, the University of Rochester, and the Eastman Community Music School. She has also been a horn instructor and chamber music coach at Kendall Betts Horn Camp, Crane Youth Music, the New York Summer Music Festival, and the Summer Youth Music School at the University of New Hampshire. Dr. Becker holds a Doctor of Musical Arts degree and Performer's Certificate from the Eastman School of Music, where she was awarded the 2013 Teaching Assistant Prize for excellence in collegiate teaching. She received a Master of Music degree from Eastman in Horn Performance and Literature and a Bachelor of Music in Music Education from the University of New Hampshire.